Estimated read time: 1-2 minutes
This archived news story is available only for your personal, non-commercial use. Information in the story may be outdated or superseded by additional information. Reading or replaying the story in its archived form does not constitute a republication of the story.
Karen Scullin ReportingA fifty-year old man is in police custody tonight after giving several people a pretty big scare.
Just before noon a man wearing a miner's-type helmet and holding a briefcase apparently told some people on the street outside Crossroads Mall he wanted to kill people. He then apparently boarded a UTA bus.
A short time later he ended up at the Salt Lake City Police Department. Police say he walked in the lobby ranting and raving that he wanted to kill a lot of people.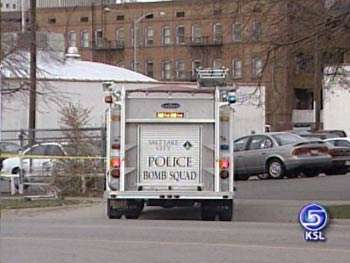 The man was apparently upset at an unidentified federal government employee who had "done something to him." But it was the briefcase that made people nervous because they just didn't know what was inside.
Capt. Mark Peck, Salt Lake City Police Dept.: "He came in ranting he wanted to kill everybody. He was waving that briefcase around and the officers subdued him at that time. He dropped that briefcase on the ground, and they immediately took him outside and started to clear some people out of the area."
Police blocked off 200 south between third and fourth east and evacuated the first three floors of the police department. They also asked employees at the small businesses across the street to evacuate.
Several hours later the bomb squad arrived to get a good look at the briefcase and quickly determined there was nothing dangerous inside. It turned out to be nothing but papers inside the case.
So the man certainly has a lot of questions to answer still, but no one was injured. Just a lot of time, effort, and money put into this event.
×
Most recent Utah stories