Estimated read time: 2-3 minutes
This archived news story is available only for your personal, non-commercial use. Information in the story may be outdated or superseded by additional information. Reading or replaying the story in its archived form does not constitute a republication of the story.
Ashley Hayes Reporting It's been a long time in the making, but now it's finally here.
"It" is a tracking system for 911 call centers. The tracking system will allow operators to locate callers using cell phones.
At Valley Emergency Call Center, the motto is "seconds save lives." Well, the new tracking system they've implemented will save minutes, in many cases a lot of them. Now when a cell phone caller dials in, the call center will know exactly where they are calling from, instead of just who their cell phone provider is. For some, it's the difference between feeling lost and being found.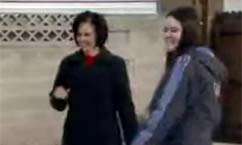 Michele and her mother Karen have always been close. They share a lot, including responsibility for their dogs. These days, moments like this one aren't taken for granted.
Not long ago Michele made a phone call no mother wants to think about.
911 Dispatcher: "911, what's the address of your emergency?"
Karen Buchanan, Michele's Mother: "It is a frightening experience."
Karen Buchanan, Michele's Mother: "Michele was disoriented at first."
Disoriented because Michele suffers from type one diabetes. She was in the middle of a severe attack when she tried to tell the 911 operator where she was.
Michele Newbold, 911 call: "34... um, 3174 South 3000 East."
911 Dispatcher: "3174 South 300 East?"
Michele: "3000, errr... hold on."
Michele Newbold, Called 911: "I called 911 on my cell phone. I could hardly even tell them my name or address. It was really terrifying."
And because Michele called from her cell phone, not a land line, the operator at VECC, Valley Emergency Communications Center, could not locate her.
Geana Randall, Valley Emergency Communications Center: "We've got to figure out where they are. Can you see a building? Can you ask somebody where you are? Pick up a piece of mail?"
If I use my old cell phone to dial 911, operators can find my general location based on the cell phone tower I am calling from. But the new technology allows them to track my exact location even as I drive down the road.
Geana Randall: "It will give us a latitude, longitude coordinate, and that will show where they are."
And that's life-changing information for Michele.
Cell phone companies are still in the process of phasing this new technology into their systems and phones. So don't assume because you have a cell phone you're ready to go. Check with your individual company and make sure your phone has that capability.
Also, hearing beeps is normal. We're told if you hear beeps when you call 911 don't hang up, your phone is making the connection.
×
Most recent Utah stories