Estimated read time: 2-3 minutes
This archived news story is available only for your personal, non-commercial use. Information in the story may be outdated or superseded by additional information. Reading or replaying the story in its archived form does not constitute a republication of the story.
John Hollenhorst reportingA robbery suspect was gunned down by a Salt Lake police officer late Sunday after threatening the officer with a metal bar.
That shooting followed a strange series of events involving a suspect who was seemingly desperate for money. He spent several minutes in a neighborhood crime spree where nothing seemed to go right.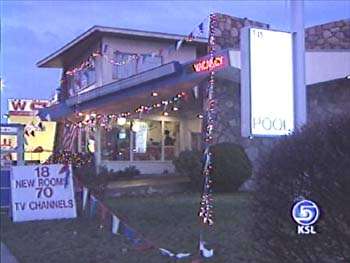 Just to give you an idea how the suspect's day went: He tried to hold up a motel, claiming to have a gun. But the night clerk here told us that his female counterpart on the day shift called the robber's bluff.
She hauled out a baseball bat and bonked him on the head. The suspect ran out the door with no money.
The suspect wound up with a bullet in his mid-section, after a bizarre series of events that left witnesses wondering if he was out of his head.
After fleeing a fruitless robbery attempt at the Gateway Inn, he attacked a man's wife as she left a family gathering.
Gary Hadley/witness: "Didn't hurt her or anything. Apparently he was trying to get some change from her at first. She told him 'No' and then he said he wanted her car, and tried to take her keys from her."
She started yelling and family members poured out of the gathering and chased him to a fenced area behind a house.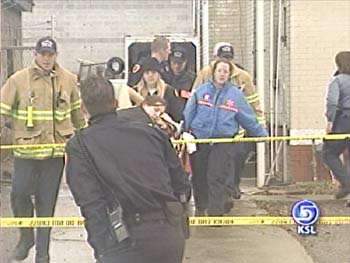 Meanwhile, an off-duty police officer spotted him and joined the pursuit. He was working part-time security at a nearby Albertson's, and recognized the suspect as someone he'd thrown out of the store a few minutes earlier for illegally selling food stamps.
The suspect jumped a fence and the officer followed.
Gary Hadley: "Drew his gun out. And the guy said, 'No, you're going to have to kill me.' (He) was coming after the cop with a stick, a big bar."
Det. Dwayne Baird/Salt Lake City Police Dept.: "Between two and three foot long steel pry bar, and then came running back at the officer swinging the pry bar."
Gary Hadley: "He kept coming after him, and finally the cop backed up about 20 feet and said that was enough, and shot him."
"My understanding is that the police officer directed the suspect to put down the pry bar and yelled that several times before the shooting occurred."
The wounded suspect is 30-year-old Joshua Boulard of Tooele. He underwent surgery for a single gunshot wound and is reportedly in stable condition.
The officer will be placed on paid administrative leave; that's routine while a police shooting is investigated.
Meanhile, the female motel clerk who apparently rocked the suspect's world with a baseball bat went home for the night, apparently without speaking to police or reporters.
×
Most recent Utah stories