Estimated read time: 1-2 minutes
This archived news story is available only for your personal, non-commercial use. Information in the story may be outdated or superseded by additional information. Reading or replaying the story in its archived form does not constitute a republication of the story.
Karen Scullin reporting Utah Highway Patrol troopers are asking drivers to look out for the lights.
Eight troopers have been hit while stopped alongside the highway in the last thirty days. All eight troopers had their lights flashing.
We've all seen flashing lights on the side of the highway, but how many drivers actually move lanes to steer clear of the situation? The Utah Highway Patrol says not many are following that new "move-over" law.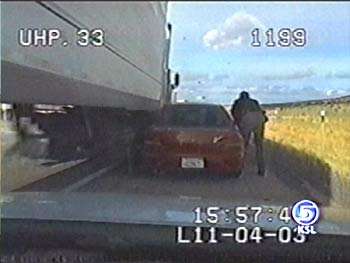 Last month, a car pulled over for a routine traffic stop was hit by a passing semi down around Cedar City. Luckily no one was seriously hurt.
But over the last thirty days, eight troopers have been hit by vehicles. Although there have been no serious injuries, they're worried that may change.
So today, troopers are putting the word out to drivers to abide by the "move-over" law, or else.
Col. Scott Duncan, Utah Highway Patrol: "You have to understand if we keep getting our troopers hit, there's a point there where we say gosh we need to enforce this law a little harder if we're going to get their attention."
To put things in perspective, only seven troopers were hit between July and October. They say that's even too many.
When asked why drivers aren't moving over, in some cases it's drivers answering cell phones, or eating. But troopers say in most cases, it's just not thinking that flashing lights simply mean move over.
×
Most recent Utah stories