Estimated read time: 1-2 minutes
This archived news story is available only for your personal, non-commercial use. Information in the story may be outdated or superseded by additional information. Reading or replaying the story in its archived form does not constitute a republication of the story.
Jill Atwood ReportingA big welcome home party today at the airport for a National Guard soldier seeing his baby boy for the first time.
Chief Warrant Officer Scott Allen has been gone since February. His son was born weeks after he left. He says he's sorry he missed his birth, but not sorry he was called to duty.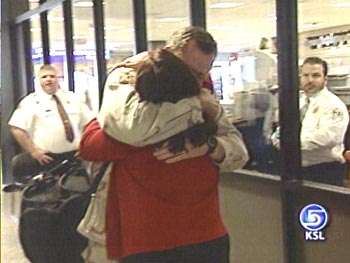 The waiting is the worst part; eleven months is a long time to be apart. Everyone seems a little anxious, until they see him. Julie Allen would hang on to him forever if she could. The reunion made most just stop and smile.
Seconds later he sees his little girl and meets his little boy for the very first time.
Scott Allen: "I thought I'd be able to come back but the timing was wrong, she gave birth during President Bush's speech. We were just getting ready to go across the Berm into Iraq."
His two and a half year old isn't sure what to make of him. She's seems a little afraid and is having trouble warming up to him.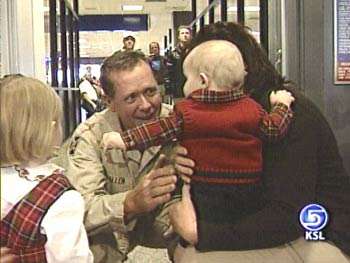 Scott Allen: "I did this thirteen years ago when my son was the same age. Similar reaction; I expected it."
The rest of the family just can't get enough.
Lenore Allen/Scott's Mother: "We are so proud of him and it's a nice X-mas gift."
Scott has to report back on Christmas Eve; until then...
Julie Allen, Scott's Wife: "No, no plans. Told someone the other day that we are just going to sit around and watch the snow fall."
Scott Allen says he works with Iraqi citizens everyday, and sees the gratitude on their faces. He hopes to be home for good sometime in March.
×
Most recent Utah stories