Estimated read time: 2-3 minutes
This archived news story is available only for your personal, non-commercial use. Information in the story may be outdated or superseded by additional information. Reading or replaying the story in its archived form does not constitute a republication of the story.
Shelley Osterloh ReportingCharity organizations that provide Christmas gifts for those who are most in need, need your help. The number of families requesting help this holiday is up.
And for the next couple of weeks, the Jubilee Center on the corner of 1st South and 3rd East will be transformed into a special store called the Candy Cane Corner where the homeless can shop for Christmas Gifts. The store is in need of donations, but so are other programs that help bring Christmas to the poor.
While most of us hit the stores in search of the perfect gift, others cannot afford any gift. Many of the working poor hope that by qualifying as a Sub for Santa family they will still have Christmas.
Luanne Reece, Sub For Santa Volunteer Coordinator: "These people are in such need. Most of them have no money, they have no income, they have no way of providing anything for the children. And it really touches your heart and you want to be able to help them."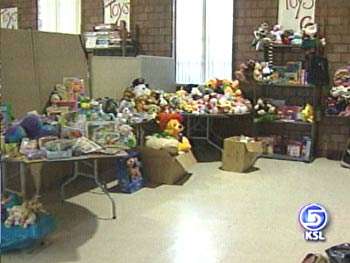 Last year Sub For Santa and other Holiday assistance programs operated by the United Way served 176 families. This year more than 300 families have applied and applications will still be accepted until Dec. 18th. Volunteers are worried they won't be able to meet the need.
The financial commitment to be a Sub for Santa is about $75 per child. If you don't want to buy the gifts, you can make a cash donation and united way will do the shopping.
Luanne Reece, Sub For Santa Volunteer Coordinator: "There is a big need and I hope people will come in and open their wallets and their hearts, and they will gain from it too."
While Sub for Santa serves families who live below the poverty level, the Candy Cane Corner serves the homeless at the YWCA women's shelter and The Road Home programs.
Celeste Eggert, The Road Home: "It allows our clients to receive donations from the community, but in a dignified manner than empowers them."
Last year The Candy Cane Corner provided holiday gifts for more than 1100 homeless children, teens and adults. Organizers say this year there is an even greater need for donations of unwrapped new items.
Celeste Eggert, The Road Home: "We especially need teen gifts, and we especially need underwear for women."
Anne Burkholder CEO YWCA: "We will be receiving gifts here for the next several weeks. And because we have so many families coming here we will need those contributions on an on-going basis."
You can drop off items at the Candy Cane Corner during the day. If your family or group wants to sponsor a Sub For Santa Family follow the link to the United Way website where you can sign up.
×
Most recent Utah stories