Estimated read time: 2-3 minutes
This archived news story is available only for your personal, non-commercial use. Information in the story may be outdated or superseded by additional information. Reading or replaying the story in its archived form does not constitute a republication of the story.
Jed Boal ReportingStudents in Roy reached across the ocean this Christmas season to embrace the struggling children of an African nation.
Today a grateful princess and a legendary recording artist thanked the young Utahns for their generosity.
Soul legend Isaac Hayes and Asie Ocansey, a princess from Ghana, have forged a sincere bond with students in Roy.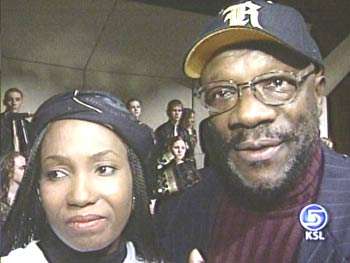 Naa Asie Ocansey, Princess of Ghana: "When Roy High School came together to do this, you can feel what came out of this, Christmas is about love."
Last month the students sent off a truckload of gifts for 560 orphaned children in Ghana. It included medical supplies, school supplies, clothing, toys, more than 80 bicycles and their first Christmas tree.
The princess adopted the orphans in the Ada region. Grammy-award winning Hayes helped build them a school. But the gifts from the students, including some of their own bikes, thrilled the Ghanaian children.
Isaac Hayes, Recording Artist: "When you give something of value to you to someone less fortunate, that's a true gift."
Hayes was raised in tattered clothes and sang his way out of a sharecropping family in Tennessee. He's dedicated to helping kids. Many of the orphans in Ghana have AIDS, are very sick, and are dying.
Naa Asie Ocansey, Princess of Ghana: "I'm sure the angels in heaven are happy today. And if this were shown around the world, it would send the spirit of Christmas everywhere."
The students also sent the children more than 900 letters--words of encouragement as they learn to read.
Isaac Hayes: "Just think if people all over the world had this kind of love for humanity. The world would be a much better place."
Roy plans to adopt Ada as a sister city and build this relationship.
Ocansey first came to Utah to learn more about salt harvesting and they use those techniques in Ghana.
×
Most recent Utah stories