Estimated read time: 2-3 minutes
This archived news story is available only for your personal, non-commercial use. Information in the story may be outdated or superseded by additional information. Reading or replaying the story in its archived form does not constitute a republication of the story.
Richard Piatt ReportingIf Governor Olene Walker gets her way reading, writing and arithmetic in Utah will get a lot better by getting a lot more funding. The Governor says we owe Utah students a better education, and the youngsters agree.
Governor Walker is asking for a significant increase in public education funding next year. She unveiled her plan at a Salt Lake City elementary school this morning. In a nutshell, it's a 6.9 % increase -- about $115-million.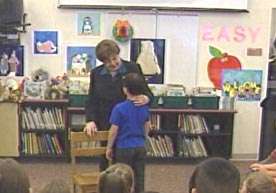 And already today the Governor is answering hard questions about that increase from just about everyone. Governor Olene Walker took the hardest question of all at a news conference, pitched by an eight-year old second grader.
Governor Walker: "What's the question?"
Thomas Jessup, Rose Park Elem. 2nd Grader: "Why are we the biggest family state in America, but the lowest one that funds schools?"
It's a lingering question that just won't go away. But with a new education budget Governor Walker is trying to address it with a proposal to boost education funding by $115-million.
Gov. Olene Walker: "This reemphasizes the need we have at looking toward the future, the number of kids we have coming into the system."
The state projects 145,000 students will enter Utah's public education system between 2005 and 2010.
So far no one is talking higher taxes, including the Governor. But she's not talking about where her increased funding is coming from yet, either. In the meantime, teachers like Jennifer Leffers are happy with whatever additional classroom cash they can get.
Jennifer Leffers, Teacher: "Anything you can get is better than nothing. And we will get what we can and do the best we can with that, and asking for more always."
The Governor handed out books to underscore literacy to a class who already seems to understand how important it is.
Cecilio Arriaga, 2nd Grader: "Because it makes me like reading and be a better reader."
Brittany Wilde, 2nd Grader: "I read to my stuffed animals and my dog and stuff."
Governor Walker plans to release her funding plan for education separately next week, but she says it does not include a tax increase.
×
Most recent Utah stories