Estimated read time: 2-3 minutes
This archived news story is available only for your personal, non-commercial use. Information in the story may be outdated or superseded by additional information. Reading or replaying the story in its archived form does not constitute a republication of the story.
Ed Yeates ReportingAs the Centers for Disease Control continues monitoring flu cases across the country, it's also documenting how many people are getting sick even though they've had a flu shot. Most are high-risk patients like David Morrison at LDS Hospital.
Before we entered David Morrison's room at LDS Hospital, we washed our hands and put on a mask. That's because he's got a variant or drifted strain of influenza "A" -- sort of a spectrum of deviants not covered by the flu vaccine.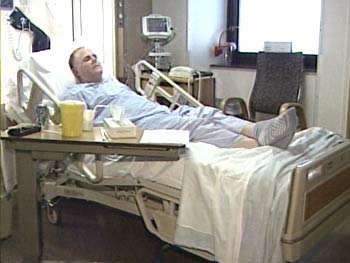 David is missing a third of his left lung from cancer, something he fought off more than a year ago even though he's never smoked in his life. Since he's at high risk for respiratory infections he got his flu shot in September. He was supposed to get a second booster this month, but not before the bug knocked him down.
David Morrison, Influenza Victim: "Don't even remember getting here. My temperature when they took me by ambulance was a 103.8."
While that first shot in September didn't give him full protection, it gave enough to save his life.
Morrison: "Dr. Dan Henry, my family physician who put me in here said if I hadn't had the first flu shot, I probably would have died."
Washing hands and wearing a mask were mandatory while in David's room. But the State Health Department today is launching an even wider campaign to protect us from illnesses.
The health department's ask for a mask campaign now expands beyond just hospitals into almost any health care facility - such as a doctor's office, an urgent care facility, even a dental office.
Susan Mottice, Epidemiologist, State Health Dept: "We're asking sick people to stay home. But if you're sick sometimes you have to go to the doctor, so we're just trying to stem transmission at doctors' offices and waiting rooms."
×
Most recent Utah stories