Estimated read time: 2-3 minutes
This archived news story is available only for your personal, non-commercial use. Information in the story may be outdated or superseded by additional information. Reading or replaying the story in its archived form does not constitute a republication of the story.
Jill Atwood ReportingThe U.S. Attorney's office hopes to permanently break up a very powerful, very violent white supremacy gang. Today 12 members of a group called Soldiers of Aryan Culture face a 13 count federal indictment.
If convicted it means they will go to federal prison for a very long time, but more importantly it means they will no longer have contact with each other because they will be spread out all over the country.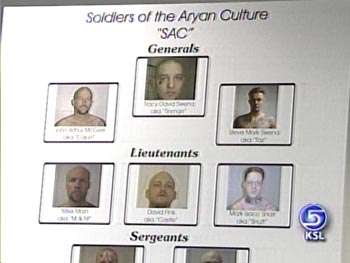 August of 2002, SAC general Scott Biswell was gunned down at a Provo Motel. He was on parole and wanted for assault when he pointed a gun at police. The group lost its leader, but not its structure. Biswell was quickly replaced in the Aryan ranks.
In May of 2002, police told us of the group's plot to kill Jewish athletes with pipe bombs during the Olympics. The metro gang unit says there is no limit to this group's violence and influence.
Chip Burrus, F.B.I.: "These are some tough guys that are facing some tough charges, and we're to make sure this evidence goes to the jury and that this comes to fruition."
Today the 12 members face a federal indictment charging them with 13 violations of the Racketeering Influenced, and Corrupt Organizations Act. In other words, their days of organized crime involving violence and drugs is about to end.
Paul Warner, U.S. Attorney: "If and when they are convicted they will be sent to federal prisons all over the country and they will no longer be together as a group. They will no longer be together in Utah and they will be no longer be able to act as a group from that point forward."
Soldiers of the Aryan Culture are very organized both in and out of prison boasting 150 strong. Police say they go beyond your average gang, calling them domestic terrorists.
Chip Burrus, F.B.I.: "If we don't stay on top of these organizations, and allow them to go unfettered and untouched in their activity, they become more bold. And they become more bold in their philosophy and their success in their criminal action. It gives them money; it gives them criminal freedom to do things. And if we don't hit them now they are going to show up later in worse terms."
Detectives realize once these 12 are put away for good that others will follow, but they say they'll be waiting, and will prosecute them too.
×
Most recent Utah stories