Estimated read time: 2-3 minutes
This archived news story is available only for your personal, non-commercial use. Information in the story may be outdated or superseded by additional information. Reading or replaying the story in its archived form does not constitute a republication of the story.
Ed Yeates reporting The State Health Department has released the latest stats on the flu, and the numbers have tripled.
As of ten this morning, official laboratory confirmed cases now stand at 3068 cases and still climbing.
3068 is only the official count. The actual sickness level out there is way beyond that number.
Also, as of this morning, the State has added yet another flu death - raising that number now to three. No further details are available at this time on the latest death.
State Health Department epidemiologist Susan Mottice says the state is following the same guidelines the CDC uses to track influenza deaths.
Susan Mottice / Epidemiologist, State Health Dept: "It's thought they died possible of having influenza and then getting a complication afterward. So we don't track deaths specifically due to influenza - but we track excess mortality that may be caused by influenza."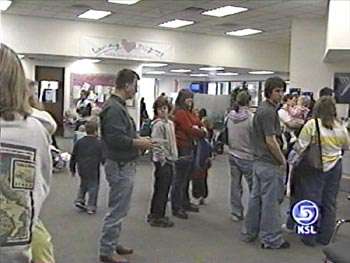 Meanwhile, supplies of flu vaccine continue to dwindle. Yesterday at a public health clinic in Sandy, numbers were handed out to make sure people were served on a first come, first serve basis.
In Sandy, as in California, some were even offering to buy numbers from those closer to the front of the line, to make sure they got a shot.
In the absence of vaccine, Brigham Young University faculty and their families were getting flu mist doses by appointment only.
The nose mist was donated at cost. Instead of 60 to 65 dollars per dose, these folks were paying only ten dollars.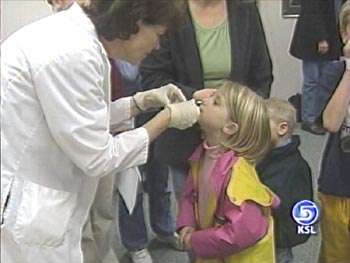 As of today, two major insurance companies have announced they will reimburse for the flu mist. At the same time, the manufacturer of the mist says it will offer a rebate to others - to keep the price down.
The State Health Department has scheduled a news conference at 1 pm, most likely to talk about new guidelines for who will get what flu vaccine is left.
×
Most recent Utah stories