Estimated read time: 2-3 minutes
This archived news story is available only for your personal, non-commercial use. Information in the story may be outdated or superseded by additional information. Reading or replaying the story in its archived form does not constitute a republication of the story.
Jed Boal ReportingAn unlikely group of kids has come up with an unusual way to help out in the community. They're 'hooked' on a new hobby that has taught them about themselves and others.
They loop the yarn and work the crochet hooks with practiced dexterity and speed. The group is crocheting beanies, scarves, even booties for people who have none.
Milo, Wasatch Youth Center: "I'm glad kids have something to wear on the streets, something warm. When I was a kid I didn't have nothing warm to wear."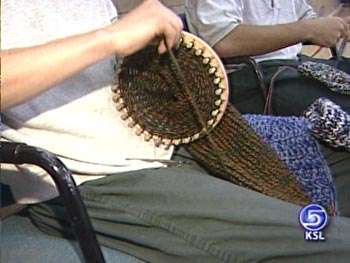 We can't identify them, and not because these young men are embarrassed by their new hobby. This is the last stop for youthful offenders, those who've committed the most serious crimes. Crocheting is part of their therapy at Wasatch Youth Center--payback to the community for bad decisions they made.
Milo, Wasatch Youth Center: "I'm just happy to do this for kids. It makes me feel better."
Crocheting isn't the kind of activity these guys thought they'd be doing when they came here. And at first, they didn't really take to the idea.
Thomas, Wasatch Youth Center: "I seen my grandmother doing it, but I never pictured myself doing it."
Milo, Wasatch Youth Center: "I thought it wasn't for a guy, but it was alright after then. I started thinking about the children."
A counselor started the guys with the hooks six months ago to give them a sense of pride and fulfillment.
Kapono Isaacs, Former Treatment Counselor: "The first time I asked who wants to crochet, I saw maybe one hand it was halfway up."
But they love it now.
Kapono Isaacs, Former Treatment Counselor: "You can show your victims as well as the community that you do have a heart."
In the long-run the teens believe they'll remember the these lessons. They dove into a project that seemed odd and discovered unimaginable rewards.
The teens use donated yarn and give the hats and scarves to agencies that serve the homeless.
×
Most recent Utah stories