Estimated read time: 2-3 minutes
This archived news story is available only for your personal, non-commercial use. Information in the story may be outdated or superseded by additional information. Reading or replaying the story in its archived form does not constitute a republication of the story.
John Hollenhorst Reporting Natural gas leaks are relatively common. But explosions are rare, especially devastating blasts like yesterday's. Experts say we can generally stay safe if we follow simple advice.
The flags at Questar facilities have been lowered to half-staff in honor of Larry Radford. He died doing a job that's not considered especially dangerous under normal circumstances. That's why some veteran Salt Lake firefighters are astonished at what happened.
Darren Shepherd, Spokesman, Questar Gas: "This is very rare; this is something we just don't see."
That's not quite true. The Saratoga Springs blast is not the first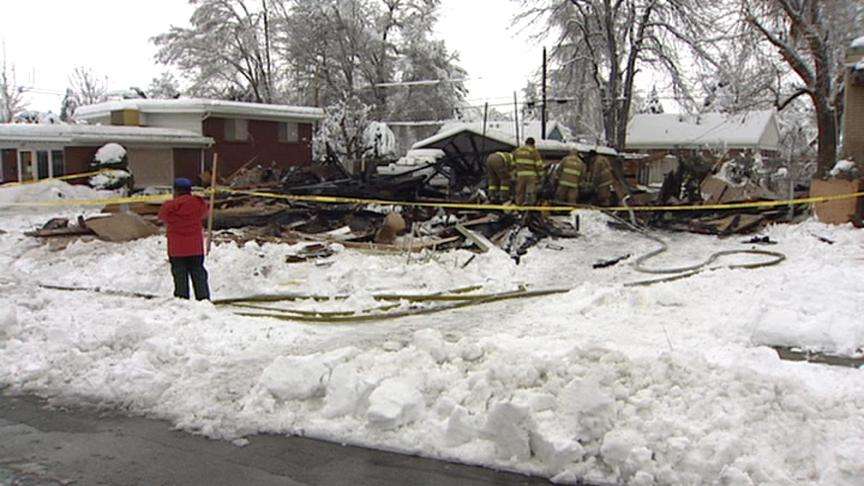 We've seen a few other natural gas house explosions over the years. But experts say it's so rare, most people shouldn't worry too much.
Capt. Gary Kraus, SLC Fire Dept.: "It's one of the safest fuels that we have."
What are the chances of getting blown up?
Ryan Mellor, HazMat Tech: "Extremely rare. Probably lightning chances."
HazMat expert Ryan Mellor showed us in a firehouse kitchen just how unlikely it is to get into an explosive situation. He blew out a stovetop pilot light and tested it for natural gas.
Alarms go off at extremely low concentrations. Even with the burner turned up all the way, the gas reached just a tiny fraction of the concentration needed to blow up. It only explodes if it's in a narrow range, between 5% and 15% of the atmosphere. Below five it's too lean, above 15, it's too rich. And it tends to dissipate quickly.
Ryan Mellor, SLC Fire Dept: "Natural gas is lighter than air so it wants to get out of here, it doesn't want to be here, and it's looking for a way out."
The best thing to do if you smell natural gas is to open a window and leave.
You can buy a home version of a testing device on the Internet for a few hundred dollars. But the experts say you already have better equipment, right there in the middle of your face (yes, that'd be your nose).
Darren Shepherd: "We add an odorant to it. So anytime anyone senses that pungent smell, they know there's a problem. And that's the time to go."
And you should immediately call 9-1-1. If the gas is at explosive concentrations, the slightest spark can set it off, a light switch, a pilot light, even a static charge from your carpet.
By the way, propane explosions are much more common. Unlike natural gas, propane is heavier than air. So it can accumulate in your basement.
×
Most recent Utah stories