Estimated read time: 2-3 minutes
This archived news story is available only for your personal, non-commercial use. Information in the story may be outdated or superseded by additional information. Reading or replaying the story in its archived form does not constitute a republication of the story.
Alex Cabrero Reporting What happens in Vegas might stay in Vegas. In West Wendover, though, city leaders want everyone to know what's going on.
Plenty of new construction is transforming the city, but it's nothing compared to what's going to happen in the next few years.
See the new houses here? How about the new city hall on this land, or even a new casino in this spot? Chris Melville can sure see them.
Chris Melville, City Manager. West Wendover: "It's just first class all the way."
He's West Wendover, Nevada's, city manager, and boy is he happy.
Chris Melville, City Manager, West Wendover: "You can feel the excitement in the residents and those that are coming to visit. It's just really nice."
West Wendover has only been a city for 15 years now, but in the past two years, Mellville says it's really taken off, and in the next few years, it's going to seem like a whole new town.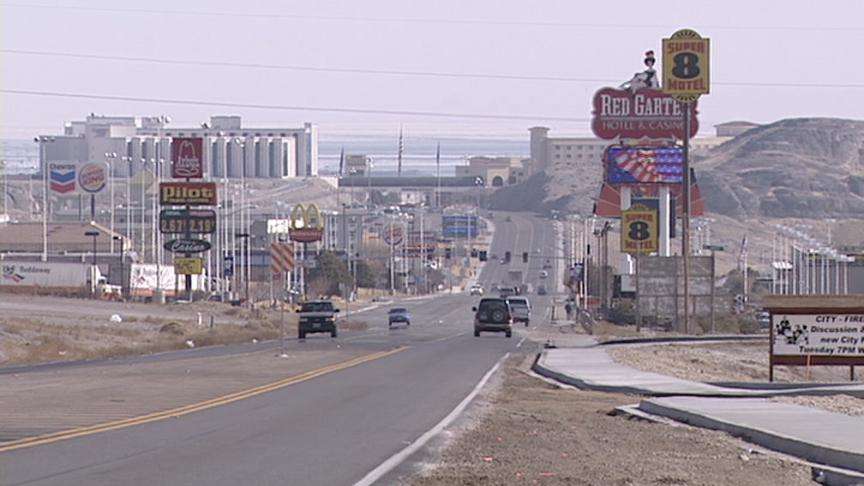 Chris Melville, City Manager, West Wendover: "This area around us is going to be the new downtown area, so we'll have new businesses, other infrastructure and facilities will be in this area."
There's already a new concert hall in town, drawing big acts like Jay Leno. Plans are also in the works for two new hotel casinos, costing 1.5 billion dollars.
Chris Melville, City Manager, West Wendover: "They indicate they're ready to go and ready to move forward, and we're just here waiting for things to get back to us so we can move forward with the project."
So why not expand in Reno, Mesquite, or even Jackpot on the Idaho border? The reason: Utah. Casino owners know the Salt Lake valley is growing fast, and it's a big market.
Josephine Thaut, Mayor of West Wendover: "We're only 90 minutes away from Salt Lake City, which is a fabulous city."
More than future casinos, though, city leaders think they'll finally be able to keep their own.
Chris Melville, City Manager, West Wendover: "It's starting to turn a little bit, and our goal is to keep that going, so that people raised here, they may go off to college, but they'll come back and use their education and their abilities here in the community."
West Wendover also has new parks, new trails in the mountains and new roads planned. Also, just this week, a group that owns casinos in Mesquite bought some land in West Wendover.
×
Most recent Utah stories