Estimated read time: 2-3 minutes
This archived news story is available only for your personal, non-commercial use. Information in the story may be outdated or superseded by additional information. Reading or replaying the story in its archived form does not constitute a republication of the story.
Karen Scullin reporting A heavy snow storm before the Monday morning commute is usually a recipe for fender benders.
But a fatal accident this morning, and a close call for troopers over the weekend, demonstrate how the real danger may come from the driver who was not involved in the first accident.
If you don't know about Utah's fairly-new "move over" law it's pretty simple. If you see a trooper's light's flashing, the law says they're supposed to move over a lane if they can.
If it's totally obvious, drivers seem to get it. Orange cones, flashing lights, and a long line of slow-moving traffic mean slow down and move over.
But if it's not like a billboard, a couple of cars on the side of the road are more like a direct target than something to avoid.
This morning a woman was killed after she and another driver pulled over to deal with a minor fender-bender.
Matt Urban/Utah Highway Patrol: A third car came up on them, struck them, came through the median on to the northbound direction. And then we had a fourth car right behind him that also came through and hit the vehicles."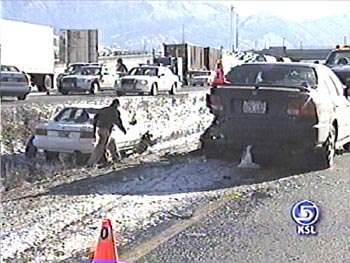 Urban says the two cars were pulled over far enough where they were well out of traffic. But he says the roads were slick, and drivers were just going too fast.
Trooper Matt Urban: "Just watch your speeds and your distances. The fourth vehicle was too close to the third vehicle, we need people to slow down and keep their distances."
Today's accident came just a day after another dramatic reminder why drivers need to slow down.
Troopers were very lucky Saturday, as they leaped out of the way of a trailer that headed straight for them. In the last month, -eight troopers were hit while pulled to the side of the road.
Basically if your battery die, or you get pulled over, it's dangerous to be sitting alongside the road. Troopers say drivers just need to pay attention and slow down, or more people will be hurt or killed.
×
Most recent Utah stories