Estimated read time: 1-2 minutes
This archived news story is available only for your personal, non-commercial use. Information in the story may be outdated or superseded by additional information. Reading or replaying the story in its archived form does not constitute a republication of the story.
Jed Boal reportingAbout two dozen Utah soldiers landed in Salt Lake today on holiday leave, glad Saddam was captured, and even happier to be out of Iraq for two weeks.
Troops lucky enough to get home for Christmas know this is one they'll always remember. And even though they have to go back to Iraq, there's some relief Saddam is a prisoner.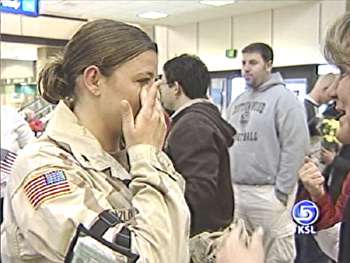 Lots of hugs,tears of joy, proud families, and excited soldiers.
Army Reservists with the 419th Transportation Company haven't been home in nearly a year.
They've been hauling fuel from Kuwait to Iraq, providing humanitarian aid, also pulling guard duty. The soldiers were in London's Heathrow Airport when they were told Saddam had been caught.
Sgt. Patrick Hensen/419th Transportation Company: "We'd been so close so many times...we were wondering if they were joking with us...or if they were serious."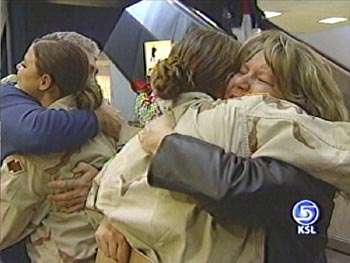 The soldiers see the capture as a moral victory...
Spc.Nicole Kozlowski/419th Transportation Company: "We're bad luck...ten minutes after we leave the country...we're really excited...it probably won't change our stay over there...but, we're excited."
Rachel Westmoreland started college two weeks before she was activated. She calls her service a great experience. But she says she's ready to get on with civilian life.
Spc. Rachel Westmoreland/419th Transportation Company: "I'm ready to go back to school...when we get home...we get home in April, so we're getting kind of excited."
Family and friends say they were shocked, surprised...and glad to hear the news of Saddam...happy for our soldiers and for the Iraqi people.
Jennifer Mann/Soldier's Mother: I still worrry about the bombers and the snipers...when she left...she's in God's hands."
As their orders stand, the company should return home mid-April.
×
Most recent Utah stories