Estimated read time: 2-3 minutes
This archived news story is available only for your personal, non-commercial use. Information in the story may be outdated or superseded by additional information. Reading or replaying the story in its archived form does not constitute a republication of the story.
John Hollenhorst reporting Santa Claus met up with one of the Lost Boys today. That may sound like a mixup of "Miracle on 34th Street" and "Peter Pan."
But it's actually an uplifting true story of a boy who survived a brutal childhood in Africa, and is starting to make it in America.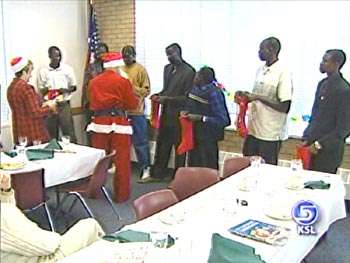 "One-two-ready-and 'dashing through the snow'."
They hardly knew what snow was a couple of years ago. So new to America, their Christmas party started from scratch.
"Not a creature was stirring, not even a mouse."
Learning the basics. The meaning of the Christmas tree. The history of Santa. The odd custom of putting gifts--like pencils--in a stocking.
Santa Claus: "This is to make sure you have straight a's."
These young college students are from Sudan. Some are among the so-called Lost Boys of Sudan.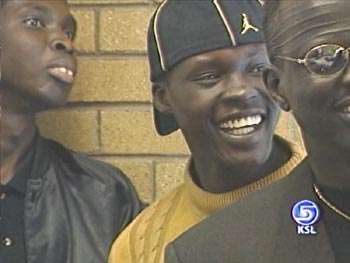 As young children, they fled a brutal civil war without their parents. They wandered through the bush, grew up in refugee camps.
Many are now in Utah, in college.
Cindy Clark/Academic Advisor: "To have been able to survive what they survived made them smart. But they do well. They're very tenacious, they follow through. Very responsible, they do really well in school."
James Alic Garang is the first Lost Boy to graduate from Salt Lake Community College, and to be accepted at the U.
James Alic Garang: "The life is not easy here. It takes time. And it takes an effort to achieve what I have done."
At the University of Utah he hopes to continue studying economics and he eventually to law school. He hopes his success will be an inspiration to the other lost boys.
Many of the Lost Boys work at night, sometimes two jobs each, while going to school.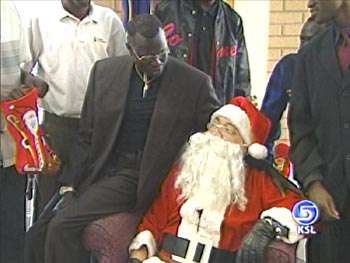 James Alic Garang: "So it is hard for the majority to go to school. While some are going, they are trying to weigh the scales of going to school and working. It is difficult." Reporter: "It's been hard for you?" James Alic Garang:"It's been hard for me too."
Sitting on Santa's knee, James asked for only one Christmas present. Peace.
"Santa, I need peace in the world."
The thought was echoed by another Sudanese student.
Student: "We need peace." Santa: "O.K."
Student: "And also we need happiness."
Santa: "Well, you know what, we got the greatest guys in the world here that can make that happen right here. That's why you're here."
The Lost Boys, finding themselves and becoming part of America.
About 3,000 Lost Boys now live in 15 American cities. About 120 live in the Salt Lake Valley.
×
Most recent Utah stories