Estimated read time: 2-3 minutes
This archived news story is available only for your personal, non-commercial use. Information in the story may be outdated or superseded by additional information. Reading or replaying the story in its archived form does not constitute a republication of the story.
John Hollenhorst reporting A big crowd turned out in Brigham City today to honor the 100th birthday of flight.
And, it went far better than the weather-dampened event in North Carolina, attended by President Bush.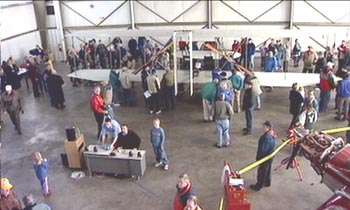 The star attraction in Utah was a plane that looks remarkably like the Wright Brothers' historic invention.
Hundreds of people packed an airplane hangar to see what a Wright Flyer looks like and to reflect on the genius of two brothers who were above-average bicycle mechanics. WAY above average.
Nick Alley/Chief Project Engineer: "They solved the whole problem of control. You know, the roll, pitch and yaw. They solved that."
Outside, pilot Wayne Larsen did a pre-flight inspection on the replica of the brothers' 1905 Wright Flyer.
Wayne Larsen/Wright Flyer Pilot: "They were extremely careful, and hopefully we've tried to follow that same pattern."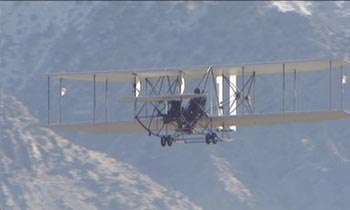 The replica's 300th flight delighted the crowd. Designed and built by Utah State students and faculty, it updates the Wright Brothers' historic 1905 design, which was notoriously unstable.
Nick Alley/Project Engineer: "We wanted to design a plane that had the spirit of the Wright brothers, but also had 100 years of aerodynamic and material-structural knowledge underneath it... to make it safer, and to make it fly well."
That first Wright flight was surprisingly short. 120 feet. You could throw a football that far. In fact, here comes one, 120 feet. And the person who threw it is not even a college quarterback.
The Wright's quickly perfected their design. And the aviation revolution accelerated dramatically.
Less than 40 years later, Chase Nielsen was one of the Doolttle Raiders, who took off from a carrier deck in B-25's and dropped bombs on Japan.
Three more decades and we landed a man on the moon.
Chase Nielsen/Doolittle Raid Navigator: "The fields of science have advanced so fast and so rapid that the world has got so small (edit) You can leave anywhere in the world now and be halfway around it in 12 hours."
That first flight took just 12 seconds to cover 120 feet. But it was the Wright Brothers' one giant leap for mankind.
Utah State's aircraft is expected eventually to be put on display at a museum in Dayton, Ohio, the Wright Brothers' home town.
×
Most recent Utah stories