Estimated read time: 2-3 minutes
This archived news story is available only for your personal, non-commercial use. Information in the story may be outdated or superseded by additional information. Reading or replaying the story in its archived form does not constitute a republication of the story.
Sam Penrod reportingLt. Darren Falslev, American Fork Police Dept.:"There were some references to guns and doing some shooting towards students and faculty."
Two American Fork high school students are in trouble.
Police say they posted threats on an website saying they would kill other students and faculty.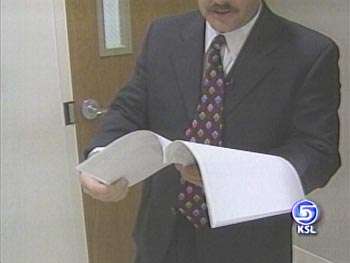 The student's website was discovered this wee, and was immediately shut down.
The serious nature of the threats has police involved and the students facing charges.
Police say there is no evidence the students really planned or even had the ability to carry out the threats.
And even though the students claim the website was only a joke, no one else is laughing.
Two 17- year old students at American Fork High School are accused of creating a website that made threats towards fellow students and teachers at the school.
Lt. Darren Falslev American Fork Police Dept. "To them it was a joke they had a different sense of humor, but to them it was funny."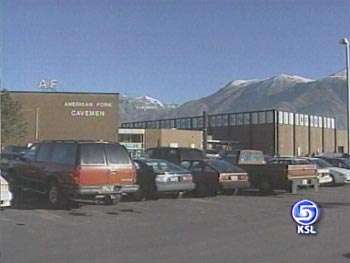 Another student at the school reported finding the website on Monday to a teacher and the school's principal.
Laced with profanity and references to Nazi Germany including hate crimes, authorities were particularly concerned with one passage on the website.
"Lt Darren Falsev: here was some references to having a bag of bullets and giving what they called the jocks of the school a counting lesson as they count the shell casings fall."
An Alpine School District spokesperson told Eyewitness News they are taking the threats very seriously.
School officials say that school safety is a top priority-and the students involved in the website face disciplinary action including suspension or expulsion.
One of the suspects had asked for a gun for Christmas.
His father bought the gun last Saturday--but has no plans now of giving him the weapon.
Overall police say unlike the Columbine shootings, where people knew of the threats and plots and did nothing--in this case police credit the student and teacher for speaking up about the threats to ensure they didn't develop into something more serious.
"Lt Darren Falsev: "We all have to try to learn lessons from other incidents, it's hard to say if that's where they were headed, but we told them we err on the side of caution to protect you and them, being the other people in the school"
Police say the students did not have any prior trouble with the law.
The 17-year-olds were taken to juvenile detention and face felony charges of making terroristic threats.
×
Most recent Utah stories