Estimated read time: 2-3 minutes
This archived news story is available only for your personal, non-commercial use. Information in the story may be outdated or superseded by additional information. Reading or replaying the story in its archived form does not constitute a republication of the story.
By Mary RichardsSALT LAKE CITY -- Fans soon will be back in Forks and the world of Bella, Edward and Jacob, not just in the movie theater but in the South Towne Expo Center.
"We are going to recreate the world of 'Twilight' in the Expo Center," said Kirsten Wright, who is with the huge Utah-based fan group Twilight Moms and its offshoot, Events By Alice.
"Alice is the party planner in the books, so we are paying homage to her," said Wright.
The two-day gala starts at 3 p.m. on Thursday and noon on Friday. It will be packed with trivia, vendors, a costume contest, Jacob's motorcycle, and Bella's red truck. People can eat her birthday cake or donate blood. Proceeds will go to Alex's Lemonade Stand.
"We'll even have a wolf pack or Coven Family Feud game," said Wright.
Wright thinks up to 5,000 people could come. "There's just such a huge fan base here," she said. (CLICK HERE for details of Expo Center event)
The Anniversary Inn on 500 South and 1000 East is capitalizing on the huge "Twilight" fan base in Utah.
Owner and room designer Joan Bennion created two "Twilight" themed rooms to coincide with the premiere of the second movie in the series.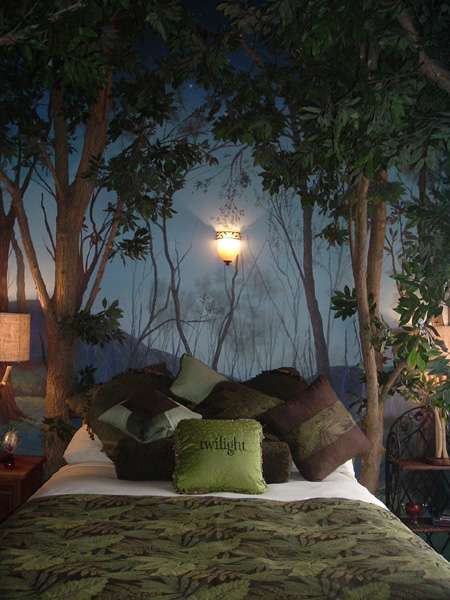 "There's an indoor experience and an outdoor experience. The 'Twilight' room is designed to be like the Cullen residence, looking out on Forks. 'Twilight' the Meadow room is all outdoors," said Bennion.
The walls are floor-to-ceiling murals of the Olympic National Forest. There's a waterfall in the Meadow room, where the bed lies underneath a canopy of realistic trees and the night sky.
There are vampire wine glasses, apples, and Edward and Bella lotions by the jetted tubs, but no pictures of them.
"My husband said, 'How hard can it be? You just paint the walls and put in a picture of Edward and Bella.' I said, 'No, the picture won't be in the rooms.' You have to be in the moment. Because that's the fantasy we try to create," said Bennion.
Bennion said bookings have been strong so far for the Twilight room. The Meadow room is open on Nov. 20.
Maybe pretending to be Edward and Bella or going to a two-day party is a little bit much, but what's wrong with romance and an escape?
"At the Anniversary Inn we are about romance and relationships. You need to capitalize on any romance that is out there," said Bennion.
"It's kind of nice to celebrate with people who enjoy the same thing you do. You can be as crazy as you want, and not seem like you're crazy, because everyone is crazy," said Wright.
E-mail: mrichards@ksl.com
×
Photos
Related links
Related stories
Most recent Utah stories