Estimated read time: 2-3 minutes
This archived news story is available only for your personal, non-commercial use. Information in the story may be outdated or superseded by additional information. Reading or replaying the story in its archived form does not constitute a republication of the story.
Rich Piatt reporting Here in Utah, we're not likely to notice any changes because of the heightened alert, unless we travel.
The most important thing you can do to reduce travel-time stress is allow yourself plenty of time.
But a lot of things about the "orange alert" you won't even see.
Even the youngest among us have gotten the hang of it: Double check your metal. Step through security slowly---and sometimes---take off your shoes. But these days, during an 'orange' alert, and a heavy travel time, things are a little more intense.
Even so, the Meadows family is sailing through the process, noticing no problems. But then, they're a little excited right now.
"We're very excited. Extremely excited, we're going to Hawaii, hello? Never been there!"
Security is just part of the deal.
Mike Meadows Sandy Resident: "It's a concern, and it's there. But you know everything seems like a regular day. I do."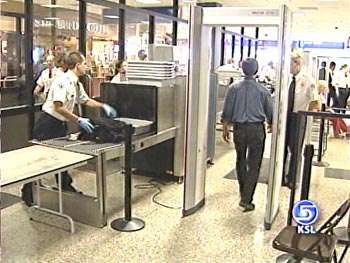 Part of it is what you're not seeing at the airport. Extra patrols along the perimeter---more police inside and around the terminals.
Inside, a lot of travelers say things go a lot quicker if you anticipate what might stop you: Don't carry metal through the detector. Remove your laptop from its case. Take your coat off and put it on the conveyer.
Keep in mind, also, that the 'Orange Alert' is also a request for you to keep your eyes open for suspicious people, too.
Barbara Gann/Salt Lake City Airport Authority "It's huge., it gives us that many more eyes out there. And the awareness level it helps us so much so we know what's going on."
Another tip: Don't bring wrapped gifts to the airport. If it's unidentified, they may have to unwrap it, and could slow you down.
×
Most recent Utah stories