Estimated read time: 2-3 minutes
This archived news story is available only for your personal, non-commercial use. Information in the story may be outdated or superseded by additional information. Reading or replaying the story in its archived form does not constitute a republication of the story.
Samantha Hayes reportingTwo former rivals are joining forces to promote Intermountain Health Care's new arbitration policy.
But, the opponents of the medical malpractice policy claim, there are no benefits.
Norm Bangerter and Ted Wilson are forming an educational coalition to support the use of arbitration, to resolve medical disputes, and cut down on insurance premiums.
But, they are facing serious opposition.
"Two-four-six-eight, we don't want to arbitrate."
For 170,000 patients under Intermountain Health care, its either arbitrate or you're on your own.
Kristine Crockett, Registered Nurse: "I beieve its a poor choice for the patient and doctors and the nurses."
Arbitration in a medical malpractice suit means the case is not argued before a jury. Instead the patient and physician go before a three member arbitration panel, and the panel makes a binding, final decision. No appeals unless the case is considered extreme.
Greg Parish, Protestor: "Anytime you give up any of your constitutional right under force, it's not in your best interest."
Today former politicians and health care representatives tried to explain the benefits of arbitration.
Ted Wilson Former Salt Lake City Mayor: "We are putting together a group to point out that we think arbitration is fair, costs patients less money and its faster."
Those against it say:
its difficult in some areas to find a non-IHC physician.

believe arbitration is essentially signing away constitutional rights.

many patients can't afford to pay arbitration costs. Protestor:"Cheaper in the courts! Less expensive for IHC! Not the patients!"

Ted Wilson Former Salt Lake City Mayor: "It was difficult to speak today, because many people disagreeing very vocally."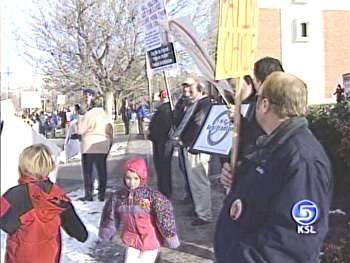 Passionate feelings on both sides will most likely boil over during the next legislative session in January.
Proponants say arbitration is here to stay, opponents want lawmakers to reconsider the whole thing.
×
Most recent Utah stories