Estimated read time: 3-4 minutes
This archived news story is available only for your personal, non-commercial use. Information in the story may be outdated or superseded by additional information. Reading or replaying the story in its archived form does not constitute a republication of the story.
SALT LAKE CITY -- New statistics out this week from the federal government show that 49 million Americans experience food shortages at times throughout the year. According to the USDA, that's the highest since the agency starting conducting annual surveys beginning in 1995.
The Utah Food Bank knows how difficult things are right now, but its new and larger facility is helping to distribute more food to Utahns who need it.
The new location is at 3100 South and 900 West in Salt Lake. It opened about a week ago. It's nearly twice the size as the old building, and it's already stacked to the ceiling with donated food.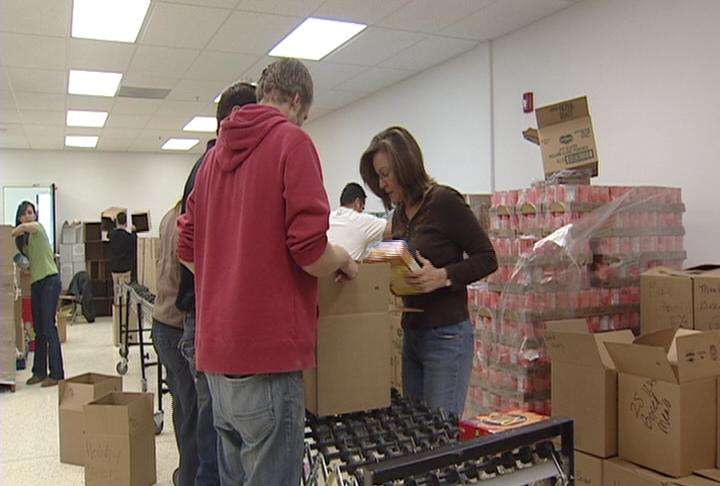 The Utah Food Bank's executive director, Jim Pugh, said, "This new state-of-the=art facility is 86,000 square feet, almost double the square footage compared to our old facility. It'll really allow us, over time, to distribute from 23 million pounds of food a year--which we did last year--to over 40 million pounds of food annually."

**Most needed food items**

• Peanut Butter • Tuna Fish • Canned Fruit (low sugar) • Canned Vegetables • Canned Stews/Chili • Boxed Meals • Macaroni & Cheese/Pasta - *[Utah Food Bank](https://www.utahfoodbank.org/home/index.php?option=com_content&view=frontpage&Itemid=1)*

Activity at the new food bank is constant. Volunteer groups work in an assembly line fashion, filling box after box; forklifts unload semis and stock the huge shelves; and hundreds of empty boxes are stacked up, ready to be filled and shipped to the 125 agencies around the state that distribute food to needy families. Pugh said donations are up 20 percent so far this year, but the demand is up 35 percent.

"So it still means that every family that's coming in is going to receive a little less food then they would a year ago, simply because those resources aren't there," he said.

President Obama reacted to the USDA report this week expressing his concern for our nation's children, saying, "Their ability to grow, learn and be competitive depends on regular access to healthy meals."

**Did you know…**

• 1 in 10 Utahns, 1 in 8 Utah children lives in poverty • 1 in 7 Utah children under 18 is at risk of hunger • 1 in 6 young Utah children under 5 is at risk of hunger • 345,700+ Utahns are at risk of missing or skipping a meal due to a lack of resources (4th highest rate of food insecurity in US) • 134,000+ Utahns receive food stamps, not even half of those eligible • 63,000+ Utahns eat dinner at a soup kitchen every month • Almost 40% of all Utah school-age children receive free or reduced lunch (nearly 300,000) - *[Utah Food Bank](https://www.utahfoodbank.org/home/index.php?option=com_content&view=frontpage&Itemid=1)*

Pugh said Utah's statistics concerning children are also troubling. "We see a high number of children who are at risk. Right now, one out of every six kids is at risk of going hungry. That's an extremely high number," he said.

Fortunately, Pugh said, Utah's food bank has great support from individuals, Scout troops, the postal service, the business community and others; all working hard to deliver the goods for the good of those who need it.

"We feel very fortunate that we're in this community where, even during tough times, people are so committed and so willing to help out their neighbors and find ways to get involved--and they're trying to make a difference. And we know we couldn't do it without community assistance like that," Pugh said.

For the holiday season, the food bank is hoping to distribute 1.6 million pounds of food. Right now, there are 14,000 turkeys in the freezers; they would like to get 14,000 more to handle the need through the Christmas holiday.

E-mail: kmccord@ksl.com

×
Related links
Related stories
Most recent Utah stories