Estimated read time: 3-4 minutes
This archived news story is available only for your personal, non-commercial use. Information in the story may be outdated or superseded by additional information. Reading or replaying the story in its archived form does not constitute a republication of the story.
SALT LAKE CITY (AP) -- A snowstorm that hit northern Utah on Christmas night continued into Friday, hampering the morning commute for those headed back to work and knocking out power for many who stayed home.
"Snow's everywhere, so the plows are just overwhelmed," Salt Lake County sheriff's spokewsoman Peggy Faulkner said.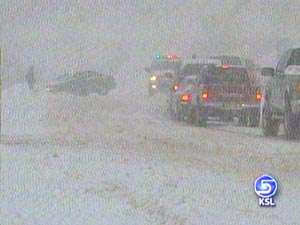 Mountain areas got the brunt of the accumulation, with some getting more than a foot, but the Salt Lake Valley also saw significant snow. Salt Lake City International Airport had 11 inches by early afternoon and other areas, especially those closer to the Great Salt Lake, were seeing even more.
"Davis County is getting hammered," said Utah Highway Patrol spokesman Chris Kramer said.
Traffic along interstates 15 and 80 was slowed because of minor accidents, but both of the state's major arteries remained open.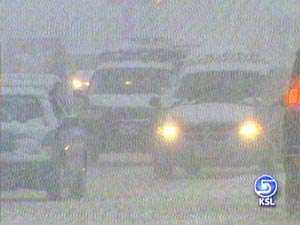 The snow seemed to be a blessing to skiers, but it also restricted access. The roads into Big Cottonwood Canyon and Little Cottonwood Canyon southeast of Salt Lake City were closed Friday morning, although Big Cottonwood Canyon did open for vehicles with four-wheel drive and chains and Utah Transit Authority buses.
Little Cottonwood Canyon remained closed because of avalanche danger, although Faulkner expected it to open later in the day.
"Avalanche danger is extreme," she said. "It depends on if it stays snowing and it sounds like it's not going to get better."
At Snowbird in Little Cottonwood Canyon, the slopes were limited to guests already staying at the resort. Supervisor Tandy Jensen said the resort gave the skiers who were there free lift tickets for the day.
Jensen, who lives in Sandy, got stuck at the resort Thursday and said she'd be spending Friday night there, too, as she waited for the storm to let up.
"We're doing great with the snow. It's better to have snow than a drought," she said.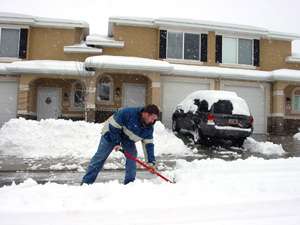 Friday was supposed to be a huge day for shopping with stores slashing post-Christmas prices and gearing up for massive returns, but the storm gave businesses a major hit. Stores and restaurants throughout downtown Salt Lake City was empty and Fashion Place Mall in suburban Murray was especially slow for Dec. 26.
"Tomorrow will probably be the way today should've been," spokeswoman Susan Kirts said.
Utah Power spokeswoman Margaret Kessler said more than 59,000 customers were without power. The number was reduced to about 35,000 customers by Friday afternoon, but the damaged areas were so widespread that restoring power was a tedious task that was going to take a while, she said.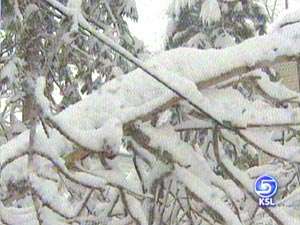 "The very storm that caused the problem is also hampering the effort," she said. "This is a very wet, heavy snow."
Salt Lake County officials opened its Emergency Operations Center because of the power outages and emergency calls.
"At this point, what we're asking is for all the citizens to stay at home if possible," said Capt. Jay Ziolkowski, a county fire department spokesman.
Flights out of Salt Lake City International Airport were delayed because of intermittent runway closings and backups for planes to be deiced, airport spokesman Adam Christensen said.
"The snow is really bad. They're trying to plow as good as they can," Christensen said.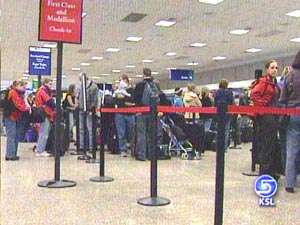 In Salt Lake City, snowplow drivers were working in shifts and sneaking naps in the maintenance sheds in between. Mayor Rocky Anderson said Friday afternoon that he would not call for a state of emergency.
"It doesn't add anything to the situation besides perhaps and undue sense of panic at this point," Anderson said.
Several shelters in the Salt Lake area have been set up for those without power:
Sorensen Center - 855 W. California
East High School - 841 S. 1300 East
West High School - 341 N. 300 West (Copyright 2003 by The Associated Press. All Rights Reserved.)
×
Most recent Utah stories