Estimated read time: 2-3 minutes
This archived news story is available only for your personal, non-commercial use. Information in the story may be outdated or superseded by additional information. Reading or replaying the story in its archived form does not constitute a republication of the story.
PROVO, Utah (AP) -- A search for at least three people caught in a back country avalanche near Sundance ski resort Friday afternoon was called Friday night when authorities determined the avalanche danger was too extreme to continue.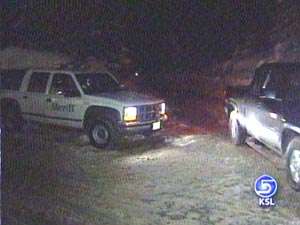 Two Utah County men, ages 18 and 20, managed to free themselves after being buried up to their chests in the avalanche, Utah County Sheriff Jim Tracy said at an 8 p.m. news briefing at Sundance.
He offered little hope that the missing men were alive. "It's not probable at this time," he said.
The men, all snowboarders, were in a party of five. Their names were not released, and they declined to speak to reporters. One of the men was taken to Utah Valley Hospital with a leg injury, Tracy said.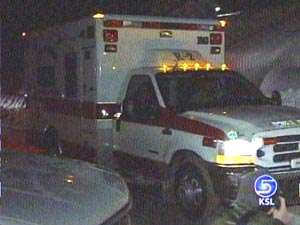 Witnesses reported seeing at least two other parties of skiers, but that has not been confirmed, Tracy said.
Tracy said about 100 search and rescue, fire and emergency medical service personnel were searching as the weather worsened, with high winds loading the ridgetop cornices with more heavy snow that could have broken and started slides. When they heard small avalanches releasing above them, the rescuers radioed in to officers at the lodge.
After conferring with avalanche experts with the Utah Department of Transportation and Sundance resort, the search was called.
Tracy said that weather permitting, avalanche safety crews at dawn Saturday would bomb the cornices to release avalanches, then determine whether to resume the search.
There were three avalanches in succession, Tracy said. The first swept the five snowboarders a half mile down a narrow chute above Aspen Grove. Snow piled up from four to 14 feet deep at the bottom of the slide, which Tracy said was about three city blocks wide.
The second two slides were smaller, he said.
None of the snowboarders carried standard avalanche safety equipment such as transponders, shovels or probe poles, Tracy said.
A snowshoer reported the avalanche in the Aspen Grove area of the canyon about 25 miles northeast of Provo and north of Sundance ski resort Friday afternoon around 4:30 p.m. MST, said Utah County Sheriff's spokesman Sgt. Dennis Harris.
"When it went down he couldn't see any of them," Harris said.
Tracy said it appeared the avalanche broke away at the top of the chute, and that none of the skiers or snowboarders appeared to have set off the slide that caught them.
Officials closed the Provo Canyon road because of the avalanche danger. Sundance is about 25 miles northeast of Provo.
A winter storm hit northern Utah, dumping more than two feet in some mountain areas. The storm was decreasing late Friday afternoon in most areas, but had dropped 29 inches in 24 hours in the Sundance area, said National Weather Service forecaster Chris Brenchley.
(Copyright 2003 by The Associated Press. All Rights Reserved.)
×
Most recent Utah stories