Estimated read time: 3-4 minutes
This archived news story is available only for your personal, non-commercial use. Information in the story may be outdated or superseded by additional information. Reading or replaying the story in its archived form does not constitute a republication of the story.
(KSL News/AP) The body of one of three men missing since Friday after a series of avalanches in northern Utah's backcountry was recovered Sunday evening in four feet of snow.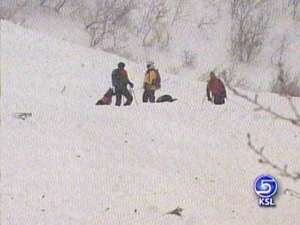 The two others remain buried in a massive avalanche. And heavy weather shut down the search Sunday night.
Two snowboarders survived the massive series of snowslides. The three others are presumed killed.
Now, one death is confirmed.
Searchers and family members faced up to a hard reality over the weekend. There's no hope the missing snowboarders survived one of the biggest avalanches in memory in the Sundance area.
Searchers have a huge area to probe. Hundreds of thousands of tons of snow thundered down the steep rock faces, dropping 4,000 feet vertically. Several avalanches broke loose in a matter of minutes.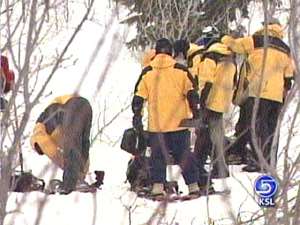 J.D. Settle was hit by two giant slides and buried twice.
J.D. Settle/Surviving Snowboarder: "You feel it. It rumbles. The best way I could describe it is, it's like snow making an earthquake. You can feel it under your feet."
Settle was dug out by rescuers. But three companions were apparently buried where the snow stopped moving and piled up. Ten acres of snow, 30 to 40 feet deep.
When rescue dogs pick up a scent, searchers dig. And they use long poles to probe for victims. The snow was packed so tight, aluminum poles were breaking and had to be replaced by ones made of steel.
It's been largely a frustration.
Chris Johnson/Utah County Search & Rescue: The area is so huge, and it's so hard to work through some of that snow because it's so densely packed."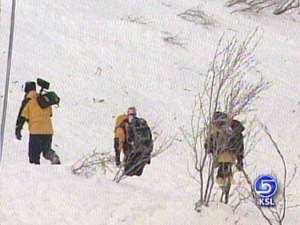 Searchers are hoping for an electronic long shot. Perhaps the snowboarders had clothes or boots with special embedded chips that can be detected electronically.
Sheriff Jim Tracy/Utah County Sheriff's Office: "That will give us an indication that there may be something there."
Sgt. Tom Hodgson/Search & Rescue Coordinator: "A lot of manufacturers now of clothing and boots especially, have that chip in the boot. These people may have had that product and not be aware of it."
Old fashioned methods produced results early Sunday evening.
Sheriff Jim Tracy/Utah County Sheriff's Office: "They were using the probes, poling into the snow, struck something that they thought was either debris or a person, and were able to find Mike."
The body recovered is 19 year old Mike Hebert of Orem. Rod Newberry and Adam Merz are still missing.
Hebert was identified by his driver's license and cell phone, which were with the body when it was found around 5:20 p.m.
The body was found just above an area where two hats, a backpack and a snowboard were found earlier in the day.
Their firend JD Settle says the group knew the area was a dangerous avalanche chute. But they decided to go there anyway because it's great for snowboarding. In retrospect, he agrees, not a good decision.
JD Settle/Surviving snowboarder: "No, I won't board this chute ever again."
The search continued until about 7 p.m. Sunday, when the last of the rescuers left the mountain. They were not to return Monday because of an approaching storm that was expected to dump 12-18 inches of fresh snow on the area.
The search was halted earlier in the day so crews could use explosives to blast away loose snow as a precaution against further avalanches. The search continued even after the clear afternoon turned cloudy and the wind whipped through the canyon.
Sgt. Dennis Harris, another spokesman with the sheriff's office, said the snow was also deeper than initially believed.
"At first we thought we were dealing with four to 14 feet. Now we're dealing with anywhere up to 35 feet," Harris said.
Harris estimated 120 volunteers and rescue workers -- more than twice Saturday's total -- from six counties were available Sunday to assist in the search, which began Sunday with a chopper flying over the area so crews could survey it for the danger of more avalanches.
(The Associated Press contributed to this story.)
×
Most recent Utah stories