Estimated read time: 1-2 minutes
This archived news story is available only for your personal, non-commercial use. Information in the story may be outdated or superseded by additional information. Reading or replaying the story in its archived form does not constitute a republication of the story.
(Provo-AP/KSL News) -- The search for two snowboarders missing since Friday in an avalanche is being called off for Tuesday because of another storm system moving in.
High winds and about a foot of snow is expected to fall on top of the 10-inches that fell overnight on the 11-thousand-foot Elk's Peak in the Aspen Grove area.
That's where three snowboarders were buried by a series of avalanches on a major slide path Friday.
The body of 19-year-old Mike Hebert of Orem was recovered last night. His companions -- 20-year-old Rod Newberry and 18-year-old Adam Merz -- are still missing.
As many as 80 people have been digging for the victims, but it hasn't been easy.
Harris says they've broken snow shovels and probes trying to dig through layers of ice caused by the friction of four successive snow slides.
The icy layers also are cutting search dogs' feet.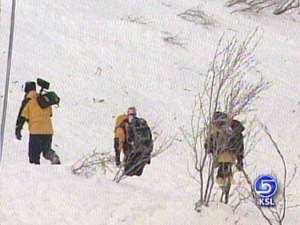 The search crews were digging holes as deep as 10 feet, but the slides left a pile of snow 35 feet deep.
Harris says the avalanches ran 16-hundred vertical feet down Elk's Peak, almost from the top, piling up on 10 acres.
Searchers did not look for the missing snowboarders on Monday because of bad weather.
( The Associated Press contributed to this story)
×
Most recent Utah stories