Estimated read time: 2-3 minutes
This archived news story is available only for your personal, non-commercial use. Information in the story may be outdated or superseded by additional information. Reading or replaying the story in its archived form does not constitute a republication of the story.
(KSL News/AP) Icy road conditions forced numerous accidents and slide-offs Monday, as high winds and heavy snow at times turned some roads treacherous.
A new storm moving in could send a couple more inches to areas of the Wasatch Front on Tuesday.
The conditions changed quickly all day long on Monday. In one place the roads were fine; drive five miles and you could run into a wall of wind and snow.
Wind whipped snow into a blizzard and passable roads turned treacherous in a hurry. Emergency crews scrambled to keep up with the accidents.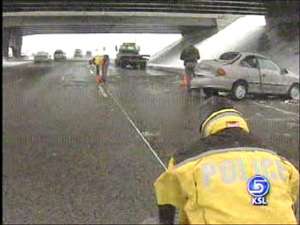 Around 11:00 a 36-year-old woman was killed in a crash as she headed north on I-215. She lost control on the overpass above State Road 201. She was headed north on I-215 and lost control on the overpass above State Road 201. Trooper Rourke McMorris, UHP: "Causing her to vault off and land 28 feet down on the driver's side."
She was killed on impact.
I-15 was closed near Tremonton for a while. A driver was thrown from the car and killed in a crash near Coalville. On I-215 at Redwood three teens survived a roll-over. They were belted in, driving in the slow lane and caught up to a semi too quickly for the conditions.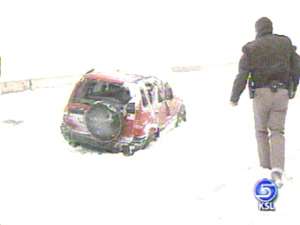 Gregory Anderson, Passenger: "The semi came up, we started fishtailing this way, we tried to correct."
The car careened across two lanes and rolled.
Gregory Anderson, Passenger: "The car tipped and I hit the side and the glass shattered up into my face. And then it rolled over again."
They walked away with a few scrapes.
Trooper Phillip Burbank, UHP: "The wind was blowing hard earlier, now we've got snow falling on it. Very wet cold, icy and snowing. Very dangerous conditions, please drive safe."
At about the same time, a woman had to be cut out of her car with a neck injury that resulted when her car was rear-ended.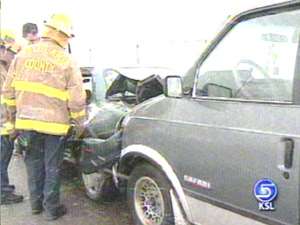 Cpt. Craig Outzen, Salt Lake County Fire: "Within just ten minutes we went from a somewhat clear day to the condition we have right now."
You may run into similar conditions, depending on the location, for another day or so.
From last Friday to Monday afternoon, UHP reports three fatal accidents, 50 accidents with injuries, 221 accidents with property damage, 262 vehicle slide-offs.
×
Most recent Utah stories