Estimated read time: 3-4 minutes
This archived news story is available only for your personal, non-commercial use. Information in the story may be outdated or superseded by additional information. Reading or replaying the story in its archived form does not constitute a republication of the story.
SALT LAKE CITY (AP) -- Another winter storm that blanketed northern Utah stranded two groups of snowmobilers in the Monte Cristo mountains and led three snowboarders on a wrong turn at Powder Mountain ski area. All were rescued Friday morning after spending the night huddled around fires.
At Powder Mountain, three snowboarders found by a helicopter Friday morning spent the night in a backcountry canyon. The men, all in their early 20s, were taking runs off a mountain road and failed to show up by day's end, said Steve Ericson, a patrolman and member of the sheriff's search and rescue team.
Ericson said the South Ogden men were "poaching" -- skiing Powder's frontside without paying for lifts tickets by using a road and a driver. The snowpacked road leads to a lodge and parking at the top of the ski area. On a final run they went over the wrong side of a ridge and got trapped in Wolf Creek drainage. They were flown the next morning to the ski area's main lodge.
"They were a little cold but they were in pretty good condition," said sheriff's Sgt. Brad Randall. "They made a little snow cave and had a fire going this morning," he said.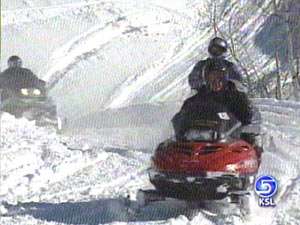 Disoriented by high winds and blowing snow, the trio "ended up losing track of where we were," Danny Wilson told a local TV station. He said they made small fires of pine needles.
Weber County search teams rescued two groups of six snowmobilers who failed to return to a popular trailhead on snowbound Monte Cristo highway. One group ran out of gas, while the other got lost, although it used a cell phone to stay in touch with sheriff's deputies.
Both groups managed to find each other in the backcountry, hunkering down for a night and making a bonfire.
Search and rescue teams had been forced back by blizzard conditions early in the search Thursday night.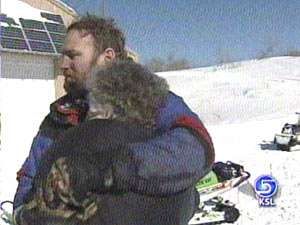 By morning, when some of the snowmobilers left for help, the others were found "way off the beaten path," said Randall, who was in a helicopter that spotted them five miles from Monte Cristo highway.
"That was a bad storm to be spending the night in, but luckily they were well-dressed for it," he said.
More than 15 inches of snow fell at Powder Mountain Thursday and Friday morning, adding to a snow base nearly 10 feet deep. That's typical of the snow depth for much of the higher elevations of northern Utah.
Officers were not certain they would cite the stranded snowboarders at Powder Mountain for skiing without lift tickets. "We have cited in the past, we'll just have to look and see. We don't know what we'll do yet," Randall said.
Powder Mountain was the scene of an earlier stranding, also in a blizzard, of a San Diego couple who spent a night in the cold Dec. 21. Richard Fitch and Elizabeth Whitehouse took a wrong turn into a drainage leading to Cache Valley. They got little sleep, but kept warm in their ski clothing and required no medical help.
At 5,500-acre Powder Mountain, "It can definitely be an adventure if you don't know where you're going," Ericson said.
(Copyright 2004 by The Associated Press. All Rights Reserved.)
×
Most recent Utah stories