Estimated read time: 2-3 minutes
This archived news story is available only for your personal, non-commercial use. Information in the story may be outdated or superseded by additional information. Reading or replaying the story in its archived form does not constitute a republication of the story.
Richard Piatt ReportingMayors of several Utah cities took their oaths of office today. Inauguration day varied from simple in Ogden and West Valley to elaborate in Salt Lake City.
Salt Lake City's Mayor is well aware he didn't win by a landslide, and he used his inauguration to try to bring those who didn't support him over to his side.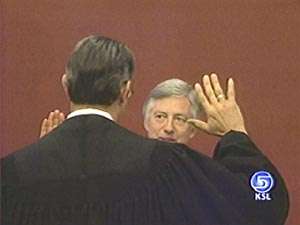 Native American hoop dancers were among ten performers for Mayor Anderson's inauguration. It was entertaining, but also part of a political statement on diversity which is high on Anderson's agenda. He is also firm in a desire to make a difference---to stand firm on his well-known convictions.
Rocky Anderson, Salt Lake City Mayor: "We will choose the values of cleaner air, better health, better transit options, less social isolation even in the face of political retribution."
Anderson is well aware of his detractors, which include members of city council who endorsed Anderson's opponent in the election. At this point, though, they are also hoping for a 'new start.'
Carlton Christensen, Salt Lake City Council: "Obviously the voters have asked me to do something other than what I would have chosen, but they have made that statement. We'll do our best to work together."
Mayor Anderson is NOT promising to back off on his intensity and passion for what he feels is right. Former Governor Cal Rampton encouraged what he describes as Anderson's 'exuberance' to do the right thing. .
Cal Rampton, Former Utah Governor: "We stopped an talked and he said 'Do you have any suggestions for what I can do to improve my performance?' I said, "Try two tranquilizers every morning.'"
Rampton told the crowd he can promise Rocky Anderson's next four years won't be dull, saying Rocky can be counted on to do the right thing as he sees it.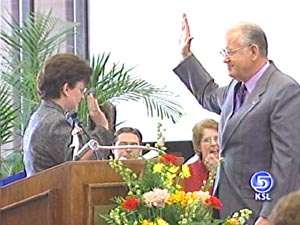 The hour-and-a-half long ceremony was not extravagant, but it was much more elaborate than inaugurations in other Utah cities. In West Valley, Mayor Dennis Nordfelt took his oath at a quick, simple noon-time ceremony, similar to Mayor Godfrey's in Ogden.
×
Most recent Utah stories