Estimated read time: 2-3 minutes
This archived news story is available only for your personal, non-commercial use. Information in the story may be outdated or superseded by additional information. Reading or replaying the story in its archived form does not constitute a republication of the story.
Ed Yeates ReportingA contract employee for Albertson's Supermarkets is in the hospital recovering from carbon monoxide poisoning. Wasatch Front hospitals say this has been a bad season so far and we're only half way through the winter.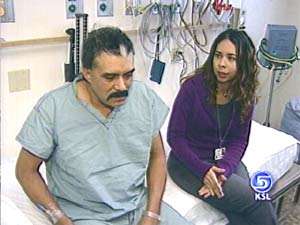 This evening, Alberto Torres went through a third treatment in LDS Hospital's Hyperbaric Chamber here to prevent brain damage from CO poisoning. Three treatments at six hour intervals is the protocol now in treating severe carbon monoxide poisoning. Studies show the pressurized oxygen chamber tends to speed up recovery and prevent long term brain damage.
Torres was using a gas powered floor scrubber at an Albertson's store last night. Within the hour he was in serious trouble.
Alberto Torres, CO Victim: "I kept cleaning but I thought it was because of the water, so I ended up turning off the machine, and I thought I have to turn it off because I can't really breathe anymore. I tried exiting, going out the door, but I didn't make it."
Dr. Lindell Weaver says the weather and the power outage last week led to an outbreak of CO poisonings. In some cases whole families were treated in a larger hyperbaric chamber at Lakeview Hospital in Bountiful.
Weaver says with homes and buildings closed up tight, make sure you have a good carbon monoxide detector to monitor buildups of this odorless, colorless gas.
The new recommendation is to buy carbon monoxide detectors that have a digital readout window, so you can see what's going on subtly long before the alarm sounds.
Weaver also cautions warehouses and other businesses which use propane powered forklifts. Even though they're designed for use inside, be wary, he says.
Lindell Weaver, M.D., LDS Hospital: "Just ten days or so ago, we treated a patient from Park City who had carbon monoxide from operating some machinery inside a construction site."
Again, continuing low levels of carbon monoxide poisoning are often subtle. Family members may feel a little lightheaded, like they're coming down with the flu.
×
Most recent Utah stories