Estimated read time: 2-3 minutes
This archived news story is available only for your personal, non-commercial use. Information in the story may be outdated or superseded by additional information. Reading or replaying the story in its archived form does not constitute a republication of the story.
Karen Scullin ReportingOne of Elizabeth Smart's alleged kidnappers will not be tried for the crime anytime soon. A judge has ruled Wanda Barzee incompetent to stand trial.
It was not a surprise to prosecutors or defense attorneys that Wanda Barzee was found incompetent to stand trial. Two psychiatrists say right now she cannot give rational testimony to help in her own defense.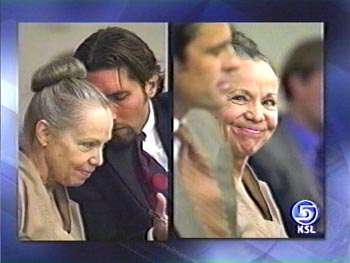 Wanda Barzee smiled when the judge ruled her incompetent to stand trial.
Scott Williams, Barzee's Attorney: "We're not surprised, and today's hearing went as all parties anticipated."
Two doctors agreed her mental illness would keep her from assisting in her own defense, but disagreed on her diagnosis. One doctor said she was paranoid schizophrenic; the second said she suffered from shared delusional disorder; she apparently shares certain delusions with her husband and co-defendant, Brian Mitchell.
Jed Ericksen, Valley Mental Health: "You have another person who is a little bit more vulnerable, maybe suggestible, influence able, who is in close association with that person, and for whatever reason, comes under the charismatic influence of the more dominant person."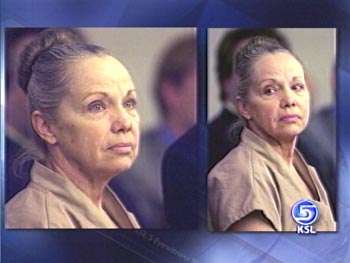 Wanda Barzee will eventually head to the state mental hospital for treatment. But right now the beds are full, so for now she'll likely stay at the salt lake county jail for another five to six weeks.
But Barzee might not receive medication without a court hearing. Barzee doesn't believe she's mentally ill and believes the doctors are under the influence of, "Satan's subtle powers."
Scott Williams, Barzee's Attorney: "She is not on any medication. She does not desire to take any medication. It's inconsistent with her personal philosophy, with her dietary habits, and she doesn't take any sort of medications at all."
The average stay at the state hospital for a patient found incompetent, then competent is 320 days. Barzee's case is up for review in ninety days.
Dave Yocom, Salt Lake County District Attorney: "We hope within the ninety day period that they will report back that her competency has been restored and we will then be able to move along with the case."
Jed Ericksen said when it comes to shared delusional disorder, sometimes separation may help restore competency, but there's no guarantee. As for Brian Mitchell, his competency hearing will be held on January 27th. That hearing will be pretty different in that one doctor has found him competent to stand trial; a second doctor says he is not ready to be tried for the crime.
×
Most recent Utah stories