Estimated read time: 1-2 minutes
This archived news story is available only for your personal, non-commercial use. Information in the story may be outdated or superseded by additional information. Reading or replaying the story in its archived form does not constitute a republication of the story.
CEDAR CITY, Utah (AP/KSL News) -- A twin-engine plane crashed near Cedar City on Monday, killing two people.
The victims were an instructor and the student he was examining for his multiengine certification.
The Iron County sheriff's office said the victims were 69-year-old instructor Lyle Wilkinson of Brookside and 23-year-old student pilot Nathan Ballard of Provo. Ballard was being examined for his multiengine certification.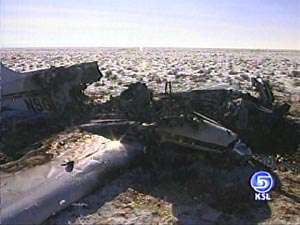 "The first thing we noticed was there was no skid marks," interim Iron County Sheriff Mark Gower said. "We think it may have come in on a flat spin."
Troy Wadsworth of Professional Flight Instruction Incorporated said the 1960 Beech aircraft was to have returned about 2:30 p.m. yesterday. When it did not, the Federal Aviation Administration asked his company to help search for it. Pilot Justin Hurst found the crashed plane around 4:30 p.m.
The crash site was approximately 30 miles north of town and five miles west of Lund Highway.
The bodies were taken to a mortuary.
Wadsworth said the crash could have occurred when the student demonstrated recovery from a stall, which occurs when the nose is too high, disrupting the flow of air over the wings. Wadsworth said that can lead to a flat spin.
Wadsworth, who was a friend of the instructor, said the instructor had issued pilot's licenses for over 30 years.
The company held a vigil Monday night in memory of the victims.
( The Associated Press contributed to this story)
×
Most recent Utah stories