Estimated read time: 2-3 minutes
This archived news story is available only for your personal, non-commercial use. Information in the story may be outdated or superseded by additional information. Reading or replaying the story in its archived form does not constitute a republication of the story.
Richard Piatt ReortingUtah's Capitol Hill is buzzing with activity today for the first day of the Legislature. Richard Piatt reports on what are shaping up to be the hot issues over the next 45 days.
Lawmakers will be facing a laundry list of issues again this year. As usual, education and the budget are at the top of the list. But also this year, parental rights, abortion and competing Hate Crimes bills are on tap.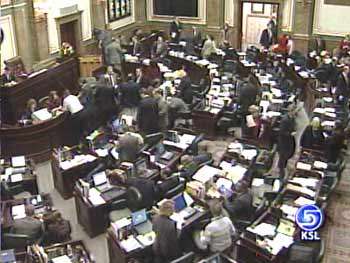 Among the groups trying not to get lost in the shuffle are proponents of Hate Crimes Legislation. They have Matthew Shepherd's mother Judy convincing lawmakers that 'sexual orientation' needs to be spelled out in any bill they consider.
Parental rights issues are also at the top of most people's list about what to expect this session. But few lawmakers want to let it bog things down.
Everyone is anticipating a different tone this session for a few reasons. It is an election year for one; look for plenty of posturing. The economy is looking up, that could ease the pressure on lawmakers when they balance the budget.
And the Legislature is getting to know Governor Walker. She, in turn, is refusing to back down on her education funding plan, which calls for more money.
Gov. Walker: "I care deeply about education, and I don't care where they get the money to fund it, as long as it's legal."
Sen. Patrice Arent, (D) Salt Lake County: "I've seen a lot of political posturing in the recent past, and I fully expect this will be the case this year. I just hope the voters are wise enough to know what they're seeing."
Already today there are protesters on Capitol Hill. One group there is part of an organized effort to push a bill that will prevent mandatory medical malpractice arbitration. They're taking on IHC in its effort to require patients to give up their right to sue for medical malpractice.
And talk about leaping right into the fire, lawmakers are wasting no time to take on late term abortion and state funding for abortions at a committee meeting tomorrow.
×
Most recent Utah stories