Estimated read time: 2-3 minutes
This archived news story is available only for your personal, non-commercial use. Information in the story may be outdated or superseded by additional information. Reading or replaying the story in its archived form does not constitute a republication of the story.
Jill Atwood ReportingToday brought more information about the man charged with trying to kill a Salt Lake County Deputy. His soon to be ex-wife tells us she believed her estranged husband intended to harm her, but she was able to phone 911 before he attacked.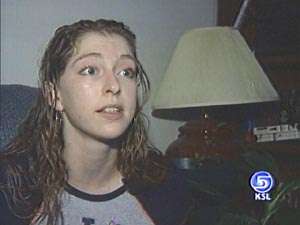 Kim Nielson says she was terrorized by Torres for over six months. She says he told her he was going to kill her, but in the eyes of law enforcement, threats are not action. And in the end, a protective order violation is only a misdemeanor no matter how many times it's violated.
Torres' wife says the neighborhood shootout was a result of a possessive, crazed husband who just couldn't seem to let go.
Kim Nielson says she was devastated by what happened to the deputy and she's convinced she was the main target.
Kim Nielson: "He had a leather trench coat on and he was walking kind of stiffly with his hand inside his jacket. I didn't think he had a gun."
Nielson's got a stack of court documents on Torres dating back to August, first the protective order and then the violations, three of them at least
Her car parked outside is a perfect example of what she and her family have endured.
Kim Nielson: "He showed up within days of the protective order and then there was pattern. He would wait a few days and then show up, wait a few days and then show up. And then it got more and more frequent."
Torres was finally arrested in October for violating the protective orders, but then released with a court date scheduled; he never showed up. Three days later he was picked up by South Salt Lake police on several different charges including carrying a concealed weapon. But charges were never filed; the district attorney said officers didn't have enough evidence.
Kim Nielson: "Something should have been done, something more. He should not have been allowed to go free. There need to be harsher stiffer penalties. This is ridiculous; he could have conceivably come in and killed my entire family."
The sheriff's office says Nielson did everything right in trying to protect herself, and protective orders do work in most cases, just not in this particular case, and misdemeanor violations are a low priority.
Nielson is hoping lawmakers are listening. She's appalled by the lax laws concerning violation of protective orders.
×
Most recent Utah stories