This archived news story is available only for your personal, non-commercial use. Information in the story may be outdated or superseded by additional information. Reading or replaying the story in its archived form does not constitute a republication of the story.
(KSL News) -- Salt Lake residents have had several run-ins with moose lately, but nothing like what happened this afternoon.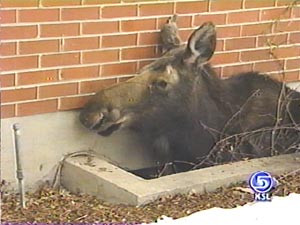 Mike Roach, Division of Wildlife Resources: "We shot it with the dart. It ran over to a person's home and fell down the window well."
Division of Wildlife Resources officers shot a wandering female moose with a tranquilizer. She stumbled across the street and into a window well.
Manpower alone couldn't lift her, so the officers borrowed a backhoe and strong harnesses from Hogle Zoo.
They shot the moose again with a reverse tranquilizer and drove her to American Fork Canyon.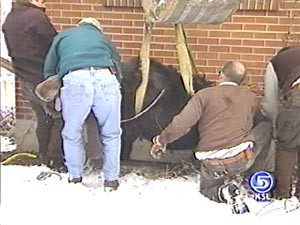 The moose lost some hair from scraping against the house, but otherwise she is not injured.
×