Estimated read time: 2-3 minutes
This archived news story is available only for your personal, non-commercial use. Information in the story may be outdated or superseded by additional information. Reading or replaying the story in its archived form does not constitute a republication of the story.
Jed Boal ReportingBack in September we took you to a new, one-room school in an Alta ski lodge. Now, in the heart of snow season, Jed Boal finds the school proving its value to students and parents.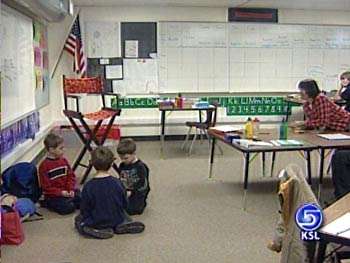 While skiers hit the slopes for fresh Utah powder there's some serious work going on in a remodeled room on the ground floor of the lodge. Students are hitting the books with a fresh approach to learning.
Jaeann Tschifelly, Teacher: "The kids seem to be doing well and progressing. The parents seem happy."
Since it opened in September, Jaeann Tschifelly has been the one teacher in the one-room Alta school with 13 students, kindergarten through eighth grade.
Seventh Grader Neil Howard says there's a lot more freedom in the classroom which has pluses and minuses.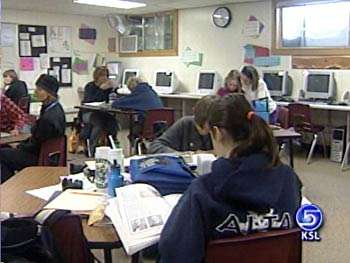 Neil Howard, Alta 7th Grader: "You can ask the teacher for help a lot easier instead of waiting forever. You can figure it out a lot easier."
His parents work in Alta, other students live in the town. The older students help the younger ones.
When snow pounds the canyons and closes the road as it did this morning, parents are thankful the school isn't in the valley.
Dorene McManus, Parent: "When you think about driving down the road and taking your life in your hands, it's nice to be able to drive five minutes and be in a school, and then ski home."
When it comes to PE, few kids in the country can claim a playground quite like this, where they can go body sledding, and even skiing for physical education.
Neil Howard, Alta 7th Grader: "If we sacrifice two recesses, we can ski for two hours, which is nice."
The pace keeps the teacher moving and multi-tasking, jumping from word games with younger students to the Pythagorean theorem and Pearl Harbor with the older students. She put a lot of planning into it, but makes many adjustments along the way.
The school runs on a lot of parental involvement, most parents volunteer at least once a week. The school is a three-year experiment, as a satellite school of Granite Elementary.
×
Most recent Utah stories