Estimated read time: 4-5 minutes
This archived news story is available only for your personal, non-commercial use. Information in the story may be outdated or superseded by additional information. Reading or replaying the story in its archived form does not constitute a republication of the story.
Alex Cabrero ReportingEvery single day police officers put themselves in harm's way to keep us safe. Most days there aren't any problems, but sometimes something happens that changes lives. For one Duchesne County deputy, that day came almost a year ago.
TV shows like "Cops" and "World's Scariest Police Chases" have given us all a look at what it's like to be there when something bad happens. It's almost considered entertainment now. For the officers in those videos, though, it's real-life. After you see what we're about to show you, you might never think of those chases as entertainment again.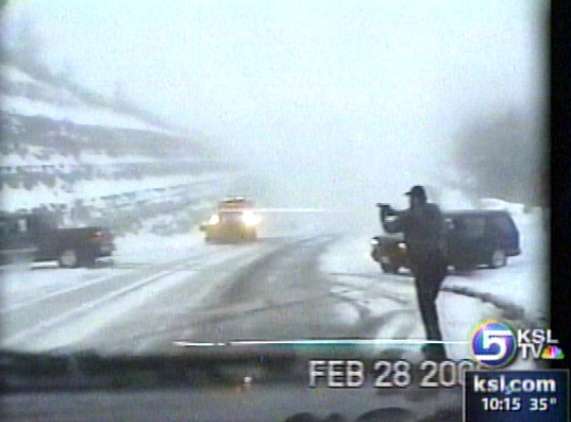 Anyone who's ever driven on a snowy road knows it's easy to lose control fast, but you can't blame snow for this.
Dep. John Crowley, Duchesne Co. Sheriffs Office: "When he opened the door, I saw two bright flashes, and glass flying past my face. I knew I was in a bad situation."
John Crowley has pulled over hundreds of drivers while working for the Duchesne County Sheriff's Office, but the one he pulled over in Duchesne last February was the one every officer always worries about.
Dep. John Crowley: "When we stop a car, we have no clue who we're stopping, or what's going to happen next."
There was no way Crowley could know the man he was pulling over on that ordinary day was Tony Shane Francis, a man with a record of armed bank robberies, prison escape, and assaulting police officers.
In fact, on this very day, a warrant for Francis's arrest was being filed in Oregon because he broke his federal parole. Crowley only pulled him over because the plates on the SUV Francis was driving came back stolen.
Dep. John Crowley: "Can you get your license and registration and all that out? Plates come back stolen off a 2006 Ford truck."
Francis : "You're kidding. Ha ha ha."
Dep. John Crowley: "You got your registration?"
No way was Francis going to let Crowley know who he was. So instead of handing over his license and registration, he took off.
Dep. John Crowley: "Control 13, he's 10-8!"
For the next 25 minutes Crowley chased Francis, first on dry roads then wet roads on Highway 191.
Dep. John Crowley: "We're still southbound 191, speed of 70 miles per hour."
Several times during the chase, Crowley weaves in and out of his lane. When it started snowing, the chase slowed to barely 35 miles an hour. Then, near the top of Indian Canyon, Francis spun out.
Crowley thought it was finally over, until, without warning, Francis attacked.
Dep. John Crowley: "I didn't hear a shot fired. Nothing. It just, your audio senses shut down. You develop tunnel vision."
Crowley ran out of his truck for cover.
Dep. John Crowley: "I actually figured we'd do the run around the vehicle, chase around the vehicle thing for a minute."
But one thing Francis probably didn't count on were the off-duty deputies behind Crowley, backing him up in unmarked cars.
Dep. John Crowley: "He probably saw the other vehicles pulling up there, and thought, 'I'm getting out of here. It's not just one officer.'"
We obtained the dashcam video from the police car right behind Crowley.
Merv Gustin: "It brings a lot of emotions."
Duchesne County sheriff Merv Gustin has seen the video several times and still can't believe it.
Merv Gustin, Former Sheriff, Duchesne County: "It's hard to watch. I mean, it's just like, we survived that?"
In the second video you see Francis coming out of his SUV shooting at Crowley and Crowley running for his life. That's when Francis sees the other deputies, shoots at them, and gets into Crowley's truck to try and drive off, but he wasn't getting away this time.
Merv Gustin: "There were probably over 60 rounds fired in less than 20 seconds."
When the shootings stopped deputies found Francis dead.
Dep. John Crowley: "The off-duty officers that were there, in my opinion, saved my life. If they weren't there, I think it could've been a lot worse."
It's amazing Crowley wasn't hit at all. You can see Francis with a clear shot at him, but he missed every time.
To this day, Deputy Crowley says he goes about his job a little differently now, that every single time he pulls over a car, it's always in the back of his mind, it could happen again.
Dep. John Crowley: "Every time, you're a little bit on edge, just expecting it to happen."
He says he's only alive because of his training.
Dep. John Crowley: "Life-saving, that training is life-saving."
An investigation found the deputies acted appropriately given the circumstances. Watching the video, that's obvious. More important than the video, though, was the training each of those officers went through before this ever happened.
×
Most recent Utah stories