Estimated read time: 1-2 minutes
This archived news story is available only for your personal, non-commercial use. Information in the story may be outdated or superseded by additional information. Reading or replaying the story in its archived form does not constitute a republication of the story.
Shelley Osterloh ReportingIt was a busy night for the Harrisville Police Department last night. While they were in the midst of dealing with a kidnapping, one of the department's officers shot a man inside a Walmart store.
At 1:00 a.m., the owners of a truck returned to the parking lot of the Harrisville Walmart to find a man breaking in.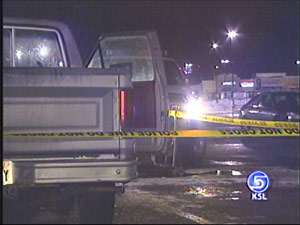 First Owner of Truck: " I was in the door and he said, 'are you calling the cops?' He said, 'call the cops then.' They are on their way buddy and I walked back in and that's when he come back in the store and headed for the back."
The officers -- one from Harrisville the other from Pleasantview -- found the man inside the store among shoppers.
Max Jackson, Chief Harrisville Police: "When they to went to arrest him he started to resist. He pulled a pistol from his waistband and the officer drew his weapon and ordered him to put it down, several times. And rather than put it down he actually brought it to bear on the officer and he was shot."
Darren Schouweiler, Witness: "The kid started wrestling with the cop, pulled out a gun, and the cop shot him."
Jayne Wright, Witness: "All of sudden I heard shots and screaming. And then somebody yelled, 'He shot. He's shot. Everybody drop!' So I did."
The shooting is under investigation but the Chief says he's grateful others were not hurt.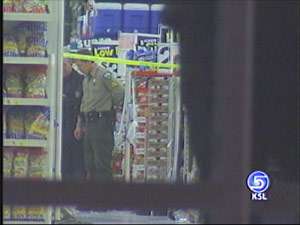 Max Jackson, Chief Harrisville Police: "It could have been a lot worse."
Jayne Wright, Witness: "I'm never going shopping again this late at night. And I'm scared almost to death."
The suspect, in his mid 20's, was treated for a gunshot wound to the leg.
×
Most recent Utah stories