Estimated read time: 1-2 minutes
This archived news story is available only for your personal, non-commercial use. Information in the story may be outdated or superseded by additional information. Reading or replaying the story in its archived form does not constitute a republication of the story.
Jill Atwood ReportingThere's a new class being taught in some Salt Lake City schools, and some might argue it's just as important as the three 'R's. It's a class that teaches kids not to hate.
We all remember the images from Columbine High School. Many of us watched, wondering how this could happen. One woman watched and said, 'I know how, now what do we do about it?'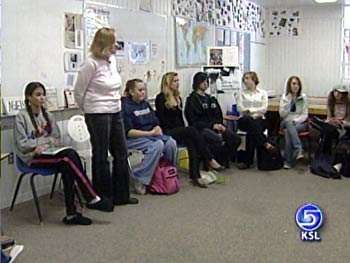 Carla Kelley, Human Rights Education Center of Utah: "Our children need to be educated about our humanity. They need to be educated on how to treat one another."
Carla Kelley teaches Human Rights at any school that will have her. She says after the incident at Columbine High School her heart stopped.
Carla Kelley: "I do this work because it needs to happen. We have kids killing each other and that's not okay."
Carla's class is made up of a circle. That's important because a circle always has room for one more and no one in the classroom should feel excluded or different. But if you were to look closely, all of the teenagers in the circle are very different. The lesson this class teaches is, that's a good thing.
Kelley wants kids to know where prejudice comes from and how quickly it can escalate into violence. Sadly, every person in this class can remember a time they were picked on.
Fiona Robinson: "Makes me feel really bad like I'm not okay like something's wrong with me."
Carla Kelley heads up The Human Rights Education Center of Utah. She is always looking for volunteers, and more classrooms to teach in.
For more information call 801-521-4283 or email hrecofutah@quest.net.
×
Most recent Utah stories