Estimated read time: 2-3 minutes
This archived news story is available only for your personal, non-commercial use. Information in the story may be outdated or superseded by additional information. Reading or replaying the story in its archived form does not constitute a republication of the story.
Jill Atwood ReportingAn American Fork man gets fired from his job; minutes later, police say, he returned with a gun and a deadly agenda. It all happened at the Provo River Water Users Association about 9:00 this morning. One man is dead and the alleged shooter is in the hospital.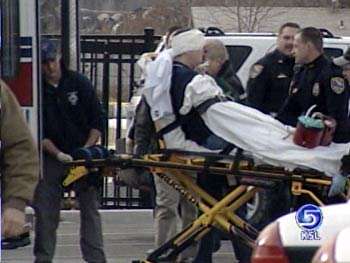 They were just threats initially, but employees were worried enough to call police. Unfortunately officers weren't able to catch up with him before he came back. Just after 8:30 this morning a 49-year old man was let go from this Pleasant Grove Business. He threatens violence and then leaves. Officers go looking for him, but can't find him.
Juan, Witness: "I saw four guys run out into the patio. Three guys run in front and the guy who had the weapon, he come in behind them and he's shooting. The guy's laying on the floor over there."
A 36-year old man was hit and killed. But police are quick to point out they don't think he was a specific target; they say the gunman was just shooting wildly.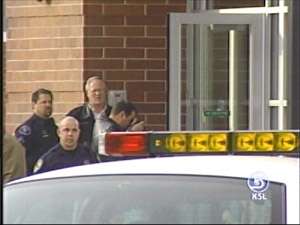 Cody Cullimore, Pleasant Grove Police Department: "He was just an extremely upset individual and this may have been the first individual that he saw out in the yard."
Moments later the suspect went back into the business and into the bathroom where he tried to take his own life.
We're not sure why the man was let go. Police would only say that there had been some problems with this man in the past.
Sam Penrod Reporting from the American Fork Hospital
The suspect in this case shot himself as police arrived on the scene. He has been in surgery most of the day, but police say he is expected to recover. For now he is under police guard.
The man suspected in the shooting was taken to the American Fork hospital this morning to be treated for a self-inflicted gunshot wound to the chin in what police call a suicide attempt.
Police are identifying the suspect as 49-year old Louis Darrell Kinyon of American Fork. He has no previous arrest records in Utah County.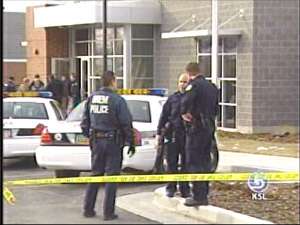 The man shot to death this morning is being identified by police as 36-year old Kent Neil Griffith of Pleasant Grove. Police say Griffith was well liked in his neighborhood and respected in the community.
Capt. Cody Cullimore, Pleasant Grove Police Department: "Tough for the family, I had to just make notification to the widow. Very likable individual, everyone describes our victim as the nicest guy they ever met. He's a very large person, described him a as gentle giant."
Police are continuing their investigation into what exactly happened this morning, but say as the suspect's condition improves, they expect that murder charges will be filed against him. Overall it's a very tragic situation in Utah County today.
×
Most recent Utah stories