Estimated read time: 2-3 minutes
This archived news story is available only for your personal, non-commercial use. Information in the story may be outdated or superseded by additional information. Reading or replaying the story in its archived form does not constitute a republication of the story.
Ed Yeates ReportingFirst it was the flu that came on early and hit hard. Now it's RSV - a viral infection that afflicts mostly small children.
Right now the caseload at Primary Children's Hospital is the highest in a decade, with kids filling up all available beds.
The Respiratory Syncytial Virus, more commonly known as RSV, comes around every year with heavier cycles hitting about every two years. This is turning out to be one of those seasons.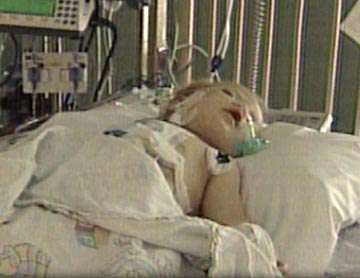 Andrea LeRoy was in an ER waiting for a room to admit her two-year-old daughter, Kate. "Full up" has been the story here for the past couple of weeks with an average of 30 plus RSV kids coming in every day.
Andrea LeRoy, Kate's Mom: "In the hospital we were just at, at Timpanogos, they were just saying the same thing -- they're packed with RSV kids too."
The new state-of-the-art ICU suites at Primary Children's have opened up more beds for post-op kids recovering from surgery, or those critically ill who need intensive respiratory care. But still the pressure is on to find space.
Edward Clark, M.D., Medical Director, PCMC: "Babies who do need admission do come into the hospital and we are able to manage them, even though the pressure and the number of cases this year are much higher than we've seen historically in the last ten years."
The caseload at Primary has been pretty consistent. For example, last night alone, the waiting room in ER was full with parents having to wait four hours or more.
19-month old Bridger Brownlee spent an extra day at Alta View Hospital in Sandy until Primary could free up a bed for his admission today. In some cases doctors are sending parents with non-critically ill children back home with instructions for self-care.
Clark: "We are teaching parents how to use a bulb suction to keep a baby's nose clear and how to feed them smaller amounts so they can get adequate nutrition."
The warning sign for RSV is simple. If your child, especially those from birth to two years of age, has difficulty breathing and becomes lethargic, you need medical help.
Until the RSV season peaks and the numbers start going the other way, Dr. Edward Clark has some advice:
Keep your newborns home.
Don't take them to shopping malls or places where lots of people gather.
Avoid church and Sunday school nurseries
And reduce the number of outside people coming into your home who might come in contact with the newborn.
×
Most recent Utah stories