Estimated read time: 1-2 minutes
This archived news story is available only for your personal, non-commercial use. Information in the story may be outdated or superseded by additional information. Reading or replaying the story in its archived form does not constitute a republication of the story.
Scott Haws reporting You've got your pet dogs, cats and birds. Then there are pet snakes, rabbits and lizards. So what about sugar gliders?
Sugar what?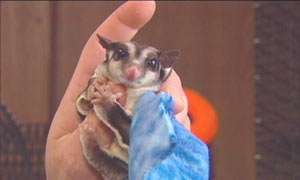 From the trees of Australia and Indonesia, to the shoulders of pet lovers all over the world, Sugar Gliders are becoming one of the hottest "exotic" pets out there.
The small nocturnal marsupials weigh 4-6 ounces and measure about a foot in length...with half of that coming from their tail...which acts a rudder in flight.
Lucinda Delquatro/licensed handler: "This is called walking them..it's hands on..the more you handle them..the better pet they are cause that builds a bond and they do everything by scent"
With a life-span of 12-15 years...gliders are making wonderful pets. They adapt very well to humans and develop strong relational bonds with their owners.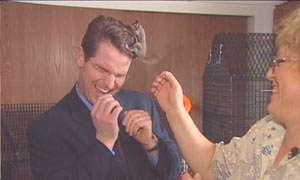 Maintenance is pretty low, and cost is pretty minimal after the initial investment for the gliders and their cage. But the biggest investment will be time with at least 2 hours a day recommended to first bond with newly adopted gliders.
And always be ready in case the gliders want to get up close and personal.
So how much for these exotic pets? For a complete starter kit including the glider and cage, you're looking at 300 bucks.
But just a reminder: Exotic pets, including gliders, are illegal in incorporated Salt Lake City.
×
Most recent Utah stories