Estimated read time: 1-2 minutes
This archived news story is available only for your personal, non-commercial use. Information in the story may be outdated or superseded by additional information. Reading or replaying the story in its archived form does not constitute a republication of the story.
Samantha Hayes ReportingHave you ever been told you look like a celebrity? Well that's what one Utah County man has been hearing most of his life. The Utahn shares some uncanny characteristics with Tonight Show Host, Jay Leno.
D.J. Adamson is in L.A. with nine other Jay Leno look-alikes from across the country. They are going to pick a winner on the Tonight Show.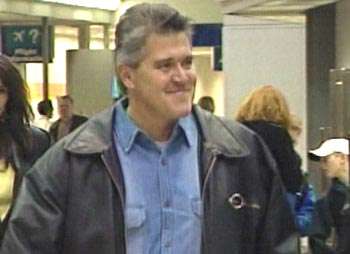 D.J. Adamson: "I feel like I've won the Jay Leno lottery. In fact I got a free meal once at a restaurant because I said I was Dave Leno, Jays brother."
The similarities are there-- the chin, the salt and pepper hair. It was enough to fool other passengers in the airport. The man at the ticket counter looked twice.
Adamson says this is the thrill of a life time, finally he gets the last laugh. And he's making a little vacation of it, bringing along Mrs. Leno, uh Adamson.
Julie Adamson, Wife: "Never a dull moment, ever since we've been married. We've been married almost 22 years.
Tonight Adamson is busy with the other nine look-alikes taping the show. We'll have some clips to show you at 10:00, but you'll have to stay tuned after the news to see if he won.
×
Most recent Utah stories