Estimated read time: 2-3 minutes
This archived news story is available only for your personal, non-commercial use. Information in the story may be outdated or superseded by additional information. Reading or replaying the story in its archived form does not constitute a republication of the story.
Kim Johnson ReportingA Skyline High School graduate's dreams are coming true in Salt Lake City's Capitol Theater tonight.
The Broadway musical Oklahoma is playing tonight, and in the ensemble is a Utah girl named Sarah Kaelin, has dreamed about the bright lights of Broadway ever since she was a little girl.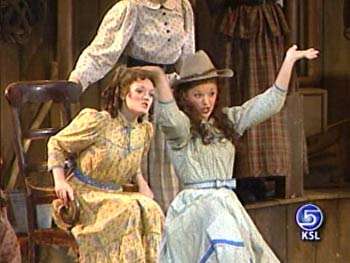 Five months ago Sarah Kaelin decided to move to New York City to study at a performing arts academy. Two weeks ago Sarah Kaelin was still a student at that academy. But an audition for a part in the national Broadway tour of Oklahoma suddenly put school on hold.
Sarah Kaelin, "Oklahoma" Ensemble Member: "It was long, but it went so smoothly, I felt really good about it. After a call back, they called me and said, 'We'd like you to come join the cast.' and I was freaking out, and excited, and everything all at the same time. And it's been an amazing experience."
With her school's blessing Sarah joined up with the cast just last week in Portland. Tonight will be her seventh performance, and serendipitously, it'll be before her hometown crowd.
Sarah Kaelin: "It was so great because they said our next city is Salt Lake City and I said, 'I'm going home,' and it was so great. My mother has been calling everyone she knows, of course."
And her father, who teaches voice lessons here in the Salt Lake Area, is thrilled too.
Dean Kaelin, Sarah's Father: "It's exciting. We've had a few people from Salt Lake that have been in Broadway, but not too many. So it's always a big deal, and very exciting. This is the first thing she's auditioned for so she was quite lucky to get in."
Lucky and ready for the challenge of Broadway caliber musicals.
Sarah Kaelin: "I was worried about, 'Oh I'm coming in second string, you know, not with the original cast', but they've all been so wonderful and very friendly."
To other Utah girls who dream of getting to Broadway, Sarah has this advice.
Sarah Kaelin: "Keep practicing and trying hard, and don't give up. If it's something you really love, just don't give up."
Sarah plans to stay with the tour until August and then return to her performing arts school in New York.
×
Most recent Utah stories