Estimated read time: 2-3 minutes
This archived news story is available only for your personal, non-commercial use. Information in the story may be outdated or superseded by additional information. Reading or replaying the story in its archived form does not constitute a republication of the story.
Jed Boal ReportingMilitary action in Iraq and Afghanistan is taking a heavy toll on reservist troops across the country and here in Utah. In the midst of deployments, recruiting has slipped, and the National Guard hopes to even out the burden among the states.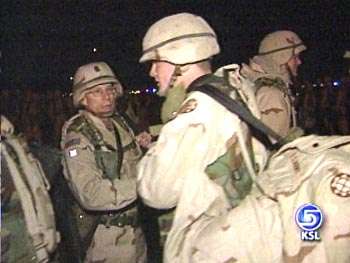 Several hundred Utah troops are headed for the battlefield this year, hundreds more are coming home. National Guard troops are shouldering quite a load.
Phase three of Operation Iraqi Freedom is shuttling hundreds of Utah soldiers in and out of the Middle East; 150 from an artillery unit leave in May.
The Utah Guard leads the nation in percentage of troops deployed--as high as 80 percent, closer to 50 percent right now.
Lt.Col. Brad Blackner, Utah National Guard: "It's been a high percentage, but it's because of the types of units and quality of soldiers. We don't like to be in those percentages, but we're prepared to do what we have to help with this cause."
A new plan would keep half of each state's forces available. The other half would be held back for emergencies at home.
Lt.Col. Brad Blackner: "I'm sure the soldiers and their families would support that."
As far as recruiting goes, it's dropped off nationwide. It's as hard as it's ever been in Utah, but they say they're still getting the job done.
Lt.Col. Dallen Atack, Recruiting and Retention Commander: "On a six-month average, we're about 80 bodies short of where we were this time last year."
Young recruits are hesitant, but some still join. Nathan Meinzer is a 17-year-old Junior in high school who's eager to serve.
Nathan Meinzer, New Guard Member: "Ever since I was a little kid, I wanted to join the army or the army national guard."
Utah is one of only six states right now that meets the Army's strength expectations, but it's an ongoing to challenge. Retention is also going to be a challenge in the National Guard as more members become combat veterans and decide they've had enough. Attrition, so far, has not hurt the Utah Guard.
×
Most recent Utah stories