Estimated read time: 2-3 minutes
This archived news story is available only for your personal, non-commercial use. Information in the story may be outdated or superseded by additional information. Reading or replaying the story in its archived form does not constitute a republication of the story.
Samantha Hayes ReportingIt was man versus moose in Summit County -- and both sides lost. Wildlife officers say they've never heard of a moose attacking a person in Utah, but that's exactly what happened when three men came upon a young bull moose in Toll Canyon this morning.
65-year old Nick Baldwin is being treated at St Mark's Hospital tonight. His injuries are serious, but not life-threatening. He has a deep cut in his leg and some trauma injuries to his head.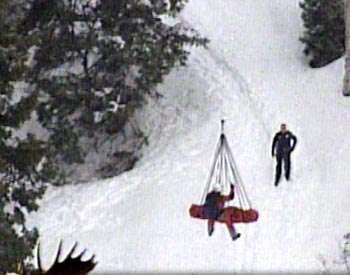 His two friends say at the time the moose was attacking, they didn't think he would live. Making it back to the car was something Bob Canestrini and Bob Mitchell weren't sure was going to happen.
Bob Canestrini, Friend: "We were all in shock that this happened."
They started off the day snowshoeing up Toll Canyon when they met the moose.
Bob Canestrini: "All of a sudden it made a huge leap and landed right in the middle of my friend."
Bob Mitchell, Friend: "When the moose attacked we thought for sure after a minute or two he was killed because the moose kept spinning around and hoofing him."
The moose continued making threatening moves...
Bob Canestrini: "So we climbed a big tree and we were trapped in the tree for 30-40 minutes."
Wildlife officials tranquilized the moose, allowing medical crews to get in and stabilize Baldwin. Then with the use of a hoist mechanism, Life Flight helicopter lifted him out and to an ambulance.
Doug Anderson, Witness: "He seemed okay. When I got up there I gave him my coat."
Wildlife resource officers say that just like people, moose have personal space and if they feel threatened, they will, like in this case, attack.
Mike Roach, Divison of Wildlife Resources: "You've got a lot of deep snow; the animal is staying really close to the trail and didn't want to get off the trail."
Fortunately these three friends will be able to talk about it and tell their story, the only one ever in Utah.
Mike Roach: "I don't know another person who has actually been knocked over and stomped on by a moose here in Utah."
Wildlife officers say the group did everything right, they moved off the trail and out of the moose's way.
×
Most recent Utah stories