Estimated read time: 2-3 minutes
This archived news story is available only for your personal, non-commercial use. Information in the story may be outdated or superseded by additional information. Reading or replaying the story in its archived form does not constitute a republication of the story.
Sandra Yi ReportingMore than 20 passengers were injured when a Greyhound bus crashed this morning on a stretch of Interstate 70.
Passengers told me they feel lucky to be alive. They were counting their blessings as they described what happened today.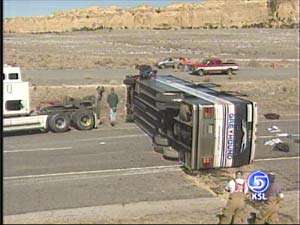 Gregory Williams, Sr.: "I don't think I've been that afraid in my whole life."
Ryan Shaw: "It was the most terrifying experience I've ever been through."
Gregory Williams, Sr.: "I thought there was going to be some fatalities. God blessed us."
Gregory Williams, Sr. was sleeping on the bus. He awoke as the bus jerked, then toppled onto its side.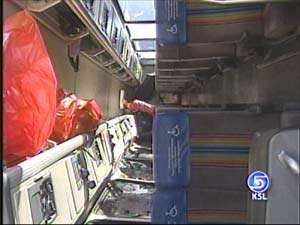 Gregory Williams, Sr.: "People were getting thrown all over the place., naturally, screaming and hollering."
Rudy Granada's face was cut when he hit the windshield.
Rudy Granada: "I was just trying to hold on to one of the seats in front of me real hard, and with all the weight that came down on me, I had no where to go."
The Greyhound bus was on its way to Denver. It was on I-70, 30 miles east of Fremont Junction, when it crashed. Highway Patrol Troopers say the 43-year old driver fell asleep at the wheel. Tire tracks on the shoulder mark where the bus drifted. Passengers say, that's when the driver overcorrected.
Ryan Shaw: "I remember it real good that he turned the wheel, jerked a little too hard or something, and the bus just goes boom."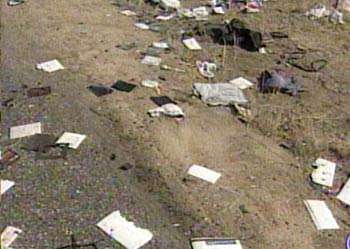 Passengers say it happened quickly. Ryan Shaw described the driver as 'ghostly white' and in shock.
Ryan Shaw: "I felt bad for him because accidents do happen and he knew that there were a lot of people's lives in his hands and he felt terrible, you could tell."
21 of the 32 passengers suffered mostly minor injures. Five were flown to a Grand Junction, Colorado hospital. The others were treated at a Price hospital and released.
Tonight, they're still trying to come to grips, with what happened.
Ryan Shaw: "It could have been a lot worse. It could have been a lot of people not even getting out, losing their lives."
Many of the passengers will stay in Price overnight. As for the driver, he broke his arm. Troopers say at the very least, he could be cited for unsafe lane travel.
×
Most recent Utah stories