Estimated read time: 2-3 minutes
This archived news story is available only for your personal, non-commercial use. Information in the story may be outdated or superseded by additional information. Reading or replaying the story in its archived form does not constitute a republication of the story.
John Daley ReportingA Utah company is raising red flags tonight in connection with the growing controversy over lucrative military contracts for the rebuilding of Iraq. The company's CEO claims the Halliburton Corporation owes it vast sums of money.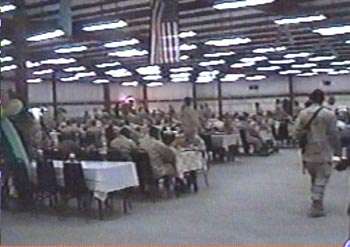 You may recall that the company that provided President Bush's much-publicized Thanksgiving dinner in Baghdad is a Utah company. Now the company says it may have to stop serving hot meals to the troops because it has not been paid by Halliburton since November.
Event Source is the Salt Lake-based company that mapped out the logistics for the meal. The facility it was served in--and 100-thousand meals a day for troops in Iraq—was under a contract with a subsidiary of Halliburton. But Event Source claims Halliburton owes it 87 million dollars--including for President Bush's turkey dinner.
Phil Morrell, CEO, Event Source: "They haven't said they dispute our bills, they just haven't paid it and they haven't given us any real justification as to why."
Morrell says he's already laid off 100 of his 500 employees--including some here in Utah--and says the money crunch may force the company to feed sandwiches to the troops rather than hot meals.
Halliburton was accused of over-billing the government for feeding troops and agreed not to accept further payments until the issue is cleared up. Morrell says he thinks Halliburton and its food service sub-contractors did overcharge--billing the U-S government for meals a dining hall could have served, rather than those actually served.
Halliburton has not directly responded to the charges, but a company representative tells NBC News, some problems are inevitable in a war zone.
Morrell admits a lawsuit is possible, but he says he's hoping to avoid that.
Phil Morrell: "I don't think it'll come to that. I think the US government wants the troops to be fed."
Halliburton tells NBC News that it does not dispute the charges. It says it is working to speed the process and is auditing all its dining facilities.
×
Most recent Utah stories