Estimated read time: 3-4 minutes
This archived news story is available only for your personal, non-commercial use. Information in the story may be outdated or superseded by additional information. Reading or replaying the story in its archived form does not constitute a republication of the story.
Jed Boal ReportingA woman is in jail tonight facing murder charges in the death of her unborn baby. It's a case that raises more questions over right to life vs. a mother's rights.
Prosecutors filed murder charges because the mother refused to have a caesarian section to save her baby's life. We talked with the mother in jail and to medical experts to fully understand a situation that's capturing national headlines.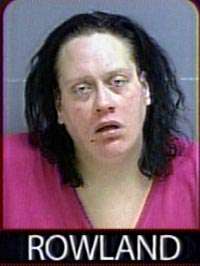 "I really don't know what I could've done to save him." That's Melissa Rowland, in jail on murder charges in the death of one of her twins. The Salt Lake county District Attorney's Office says it's not what she did, but didn't do that breaks the law.
Kent Morgan, District Attorney's Office: "And the conduct was that she omitted her duty to take care of her child and get affirmative treatment. That's what makes this case so egregious."
It started on Christmas Day at LDS hospital. Rowland--carrying twins-- told a nurse that she hadn't felt them move. The nurse advised her to go to either Jordan Valley or Pioneer Valley Hospital.
January 2nd she sees a doctor at LDS Hospital who tells her she needs an immediate c-section. According to the charges, the doctor told police: "She refused to have the c-section and left," despite being warned that lack of treatment could result in the death or severe injury of her babies.
January 9th, Rowland goes to Pioneer Valley Hospital to verify that her babies are still alive. Once again she leaves and refuses treatment after warnings her babies are in danger.
January 13th she goes back to Pioneer Valley and delivers her twins. One is dead, the autopsy shows the boy had died two days earlier.
But Rowland is adamant, she was never told she needed a c-section. "I didn't refuse a c-section, they were born by c-section."
The case raises ethical issues that have sparked conflicts before. The court papers tell one part of the story. The mother tells another. Experts in medical ethics weigh the broader issues.
Who calls the shots? The mother, the doctors, the government? In most pregnancies, what's good for the baby is good for the mother; their interests are usually the same. When they're not, there can be conflict.
Dr. Jeff Bodkin is a pediatrician and medical ethicist. He says cases like this one are agonizing ethically.
Dr. Jeff Bodkin, Medical Ethicist and Pediatrician: "In this conflict, a risk to a baby's life is difficult to resolve."
The Courts resolved the issue in a 1990 case in the District of Columbia. The American Medical Association and the American College of Obstetrics and Gynecology also resolved the issue on their ethics committees. Their conclusions? The mother decides.
Specifics in this case may challenge the law. The District Attorney calls it depraved indifference.
Kent Morgan, Asst. District Attorney: "This is an individual who knew very well that if she didn't get treat her child may die." Another expert in reproductive ethics insists it's unfortunate, but it's not murder.
Dr. Kirtly Parker Jones, OB/GYN, Medical Ethicist: "Jailing her and charging her with murder won't solve what happened."
She says Utah struggles with issues like this one--parents rights over the health of their children, fetuses rights.
Kirtly Parker: "So Utah struggles with this, but taking it to the courts and prosecuting the mother doesn't help future mothers, physicians, or babies."
And she says it won't solve the real problem--an apparent breakdown between physician and patient.
×
Most recent Utah stories